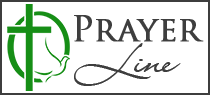 Welcome to Kinship Christian
Radio's Prayer Line!
Anonymous
Christopher Pierson and his wife Magdalena who live in the Czech Republic have an interview tomorrow with the Embassy attempting to get a visa to come visit in the United States. Their families are asking for prayer that this interview will go well.
Received: June 3, 2019
Powered by Prayer Engine