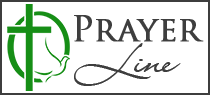 Welcome to Kinship Christian
Radio's Prayer Line!
Anonymous
Carolyn and Les Norman's daughter Gayle decided against the surgery at the last minute. She did not have peace about it. Yesterday at the doctor he said he was very pleased with the progress of her skin healing and that she will be able to go on a trip to Spain that she has had planned for a long time. Gayle is so thankful that she didn't go ahead with the surgery and that God is healing her body.
We were praying for Gina Evenson yesterday and her terrible abdominal/colon pain. Last night her mother texted and said she is finally able to get pain meds down and rest. Let's keep lifting her up in prayer. *update*Gina got 2 hrs of fluid and pepcid at clinic today. She got to take her chemo home pack off today and was able to sleep some.
My own father, Harry Musser, is in Rochester having another surgery on his tongue. He's been in so much pain and lost weight because of ulcers on his tongue and mouth. The doctor will be cutting out more and doing a biopsy to see if it's cancer. Of course my dad is very afraid. My mom and brother Peter from Colorado are with him today. Please pray that it is not cancer. By the way, my dad is a bit private and it is hard for him to talk sometimes. But I would love to have people praying for him. *update* dad is on his way home from Rochester. There is a recurrence of cancer. Dad is devastated. They will do a PET scan next week, remove more of his tongue and do reconstructive surgery. Chemo and radiation are apparently not an option so I don't know what happens after that. His pain is extremely high right now so I would ask God for pain relief, sleep and peace in these next few days. It is also critical that he gets calories so pray he would find a way to eat.
Wayne Sandee will be discharged from Oaklawn to home around 10:00 today. Please pray for a smooth transition and that Wayne feels comfortable at home. *update* 2 daughters are helping with the transition home. A hospice nurse was there to help as well.
Please pray for the 10 people going to be baptized Sunday at the 9:00 service. Pray that God would strengthen their faith, give them courage and clarity and joy! for this important decision.
Joe DeLorey is asking for prayer for next Tuesday, June 4th when he will be having an angiogram and most likely a stent placed. His daughter will be with him.
Received: June 1, 2019
Powered by Prayer Engine