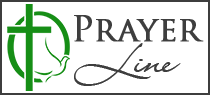 Welcome to Kinship Christian
Radio's Prayer Line!
Anonymous
Rob's open heart surgery went well.
Pastor David successfully arrived in Africa for the Covenant Sudanese mission. We pray for his trip and his family back here in Mankato.
Les and Carolyn appreciate the prayers for their daughter Gayle. She was wavering back and forth but has decided to wait on the surgery to see if her skin can heal on its own. Lets pray for this!
Joni Lundquist will be having back surgery tomorrow, Wednesday in Mankato. She hopes to find relief from a herniated disk and be able to play with her grandkids this summer!
Nancy husband Matt will be gone most of June and then deployed starting July 5th for a whole year. Because Nancy has a 1 month old baby and 2 year old she will be moving in with her parents in Sacramento CA. We can pray for this coming year of changes for this young family.
Ashley's grandma has been at Mayo Rochester several days awaiting heart surgery, perhaps tomorrow. Family has come and they have good support. Thank you for your prayers for 'granny' as she calls her.
Finnley, age 21 months?, was in the hospital last week/weekend with strep, pneumonia and low white blood cell counts. Doctors were concerned it might be something worse, and it was very scary for Jenny and Josh, her parents. Thanks be to God she is home now and recovering. Josh left for work in Detroit and Jenny's parents are going to care for the kids so Jenny can return to work tomorrow. She teaches at Rosa Parks Elementary. Thank you for praying for a full recovery for little Finnley.
We had prayed for Nicole's broken back and other stressors. She sent a beautiful card saying "I wanted to thank you all for the cards and meal given to me in love after I broke my back. I can't even begin to tell yo uhow much love I felt from you all. It was exactly what I needed and it meant the world. I love you all. My back is healing very, very slowly and with being off work and a kitchen fire I've been struggling to keep my spirits up. At first I was mad at God, asking him how much sadness can a person handle. God spoke to me though other people and I realized now is when I need Him most. Your prayers for my family are heard. One of the cards had this BIble verse and I taped it to my mirror. Lamentations 3:22,23. Love, Nicole, Hannah, and John."
Received: May 29, 2019
Powered by Prayer Engine