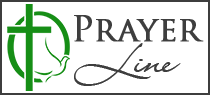 Welcome to Kinship Christian
Radio's Prayer Line!
Anonymous
A listener requested that she has prayers sent her way, because she has a family history of poor/bad health conditions. She is having to undergo at EEG Test... and she is very nervous, because the test is to search if the doctors could find any issues or links with seizures. She's asking for peace throughout the process. For God's protection and guidance. And pray that they don't find anything.
Received: May 14, 2019
Powered by Prayer Engine