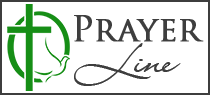 Welcome to Kinship Christian
Radio's Prayer Line!
Cheryl
Please pray for a friend's granddaughter, age 14, who is struggling with a disease that is emotionally draining and affects her bodily functions. She has to have a tube in her nose, which is noticeable to other kids and hard for a teenager to deal with...
Received: April 9, 2019
Powered by Prayer Engine