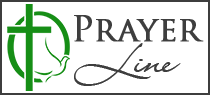 Welcome to Kinship Christian
Radio's Prayer Line!
Mary Martinez
Please pray for John. Pray the Lord Jesus renews his mindset. Touch his heart and soul in a mighty way today. Pursue him wherever he goes. Pray the Lord will use Mary as a vessel to let the live of Jesus shine brightly. Restore us as a great friendship Lord. Create a supernatural miracle.
Received: April 4, 2019
Powered by Prayer Engine