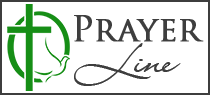 Welcome to Kinship Christian
Radio's Prayer Line!
Anonymous
Please pray for Az Ahmed, a Muslim friend of mine, that he would be pulled out of darkness and see that Jesus is the light, the only way to God, because he is God. Pray that God open his eyes to see that the god of Islam is the devil, and Islam (and every religion outside of Christ) is demonic. Pray that he is confronted with the love of Jesus and that Jesus is the answer.
Received: March 29, 2019
Powered by Prayer Engine