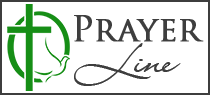 Welcome to Kinship Christian
Radio's Prayer Line!
Anonymous
Please pray for Geri. She received a phone call yesterday and was told her cousin's wife passed away while driving. Her cousins name is Butch. His wife had a brain tumor. Please pray for Geri, Butch and the family as they go through this tough time.
Received: March 28, 2019
Powered by Prayer Engine