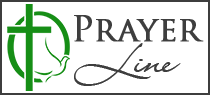 Welcome to Kinship Christian
Radio's Prayer Line!
Cheryl
THANK YOU to all who prayed regarding the premature birth of the twins. They were born weighing 1.5 lbs. & 2 lbs. (the boy being heavier). Things are looking well at this point. Would appreciate your prayers for their continued health and growth as they are small but they are in God's hands!!!
Received: July 14, 2021
Powered by Prayer Engine