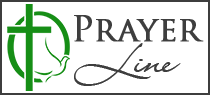 Welcome to Kinship Christian
Radio's Prayer Line!
Anonymous
I am asking for prayers from my sister who has a room-mate whose mom has MS and was diagnosed with Cancer. She is not able to be with her mom due to being in prison. It is breaking her heart, causing her pain and anxiety. Lets pray for healing and have Jesus wrap his arms around her, easing her anxiety, and arms around the mom for healing.
Another roomie of my sis, Possible breast cancer. Pray for healing.
Received: April 7, 2021
Powered by Prayer Engine