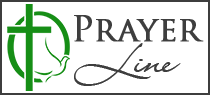 Welcome to Kinship Christian
Radio's Prayer Line!
Anonymous
A couple of weeks ago I asked for prayer for our son, Isaiah, which had just taken on a new job in California. He was let go last week. He has picked up a part time job and is trying to get started in a Life Insurance business which is pretty tough when you don't know anyone etc. He really needs direction as to what the Lord wants him to do and to bring in a income to pay rent and expenses. He is still very much alone and needs Christian friends and a church family. Please pray for a hedge of protection around him spiritually, mentally, financially, and physically. It has been a tough road...
Received: April 5, 2021
Powered by Prayer Engine