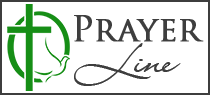 Welcome to Kinship Christian
Radio's Prayer Line!
Anonymous
Please pray for my mother she is 82 and has heart disease. She is not feeling well doctor found spots on her lungs. Doctor thinks she had Covid-19 at some point and the lungs are compromised now and she is weak and blood pressure is all out of wack. Praying she doesn't fall she lives alone.
Received: January 12, 2021
Powered by Prayer Engine