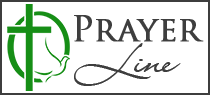 Welcome to Kinship Christian
Radio's Prayer Line!
Anonymous
Our family has been hit hard with cancer. Please pray for my sister, Brenda, who was diagnosed with breast cancer & has started 20 weekly chemo treatments; My cousin, Randy, had a brain tumor biopsy,& will receive the results, Monday (11th); my cousin, Gwen, is fighting multiple myeloma, and is very weak.
Received: January 9, 2021
Powered by Prayer Engine