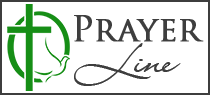 Welcome to Kinship Christian
Radio's Prayer Line!
Cammy
On Saturday I had a rotary saw accident. My pinky finger could not be saved but they were able to reattach the other 3 fingers They think I will have partial use of them after much physical therapy. Praise God that He placed the right people in the right place at the right time to take care of me and that the thumb was unaffected and that it was my non-dominant left hand. Pray for the healing process, our financial situation, and that this will bring others closer to Him.
Received: June 25, 2020
Powered by Prayer Engine