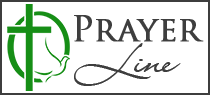 Welcome to Kinship Christian
Radio's Prayer Line!
Cheryl
March 23, 2020
Journal entry by Kathy Hofmann — Mar 23, 2020
Tony was just taken by ambulance, I'm guessing to St. Joe's in St. Paul. He'd had me text many people a few weeks ago, and I just didn't do a Caring Bridge post. He has been struggling with pneumonia. While there, for five days, I believe, he had the sputum typed. Had it been Coronovirus, they would have recognized it as something they'd not seen before... When he was returned home a week ago Saturday, he was told he'd be coughing for several more weeks... Prayers appreciated!
Received: March 25, 2020
Powered by Prayer Engine