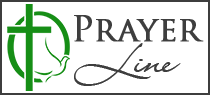 Welcome to Kinship Christian
Radio's Prayer Line!
Ruth
Please pray for my husband that was diagnosed with Stage 4 lung cancer. I have placed my life in God's hands and asked for Lyle's complete recovery so I can shout from the top of my lungs that this is God's miracle.
Received: March 20, 2020
Powered by Prayer Engine