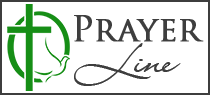 Welcome to Kinship Christian
Radio's Prayer Line!
Karen J
Please pray for our son-in-law, Jon. He is going in to have surgery on a lump on his neck at 8:30 am. Surgery is to take about three hours. Pray for the surgeon and medical staff that operate on Jon. Be with them and be extensions of Your hand, Lord. May Jon feel Your presence, Lord. even when he is asleep.
"Thou wilt keep him in perfect peace, whose mind is stayed on Thee." Isaiah 26:3.
Received: February 12, 2020
Powered by Prayer Engine