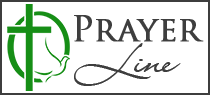 Welcome to Kinship Christian
Radio's Prayer Line!
Anonymous
Please pray for a young man, Logan, who has undergone a second heart transplant and his body is now, once again, showing signs of rejection of the heart. Logan is back in the hospital today for a couple of days of treatment. Please pray for Logan, his parents, siblings, and grandparents! Thank you.
Received: January 6, 2020
Powered by Prayer Engine