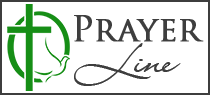 Welcome to Kinship Christian
Radio's Prayer Line!
Anonymous
I would like prayer for my Sister Darlene as her husband passed away with a heart attack on Wed evening. They live in Silver Spring, Md. I will be flying out next Friday for the funeral with other family members. Please prayer for Darlene and family and for safe travel for the rest of us. The funeral is 10:30 A.M. on Saturday morning. He was 84 years old.
Thank you
Eleanor
Received: October 29, 2019
Powered by Prayer Engine