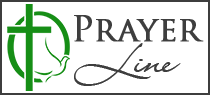 Welcome to Kinship Christian
Radio's Prayer Line!
Mike
Mike wants prayers for himself after the passing of his father and his mother in January. He has gone astray and needs God to straighten out his life and show him the way. He also needs prayers for good weather so he can get his crops out.
Received: October 25, 2019
Powered by Prayer Engine