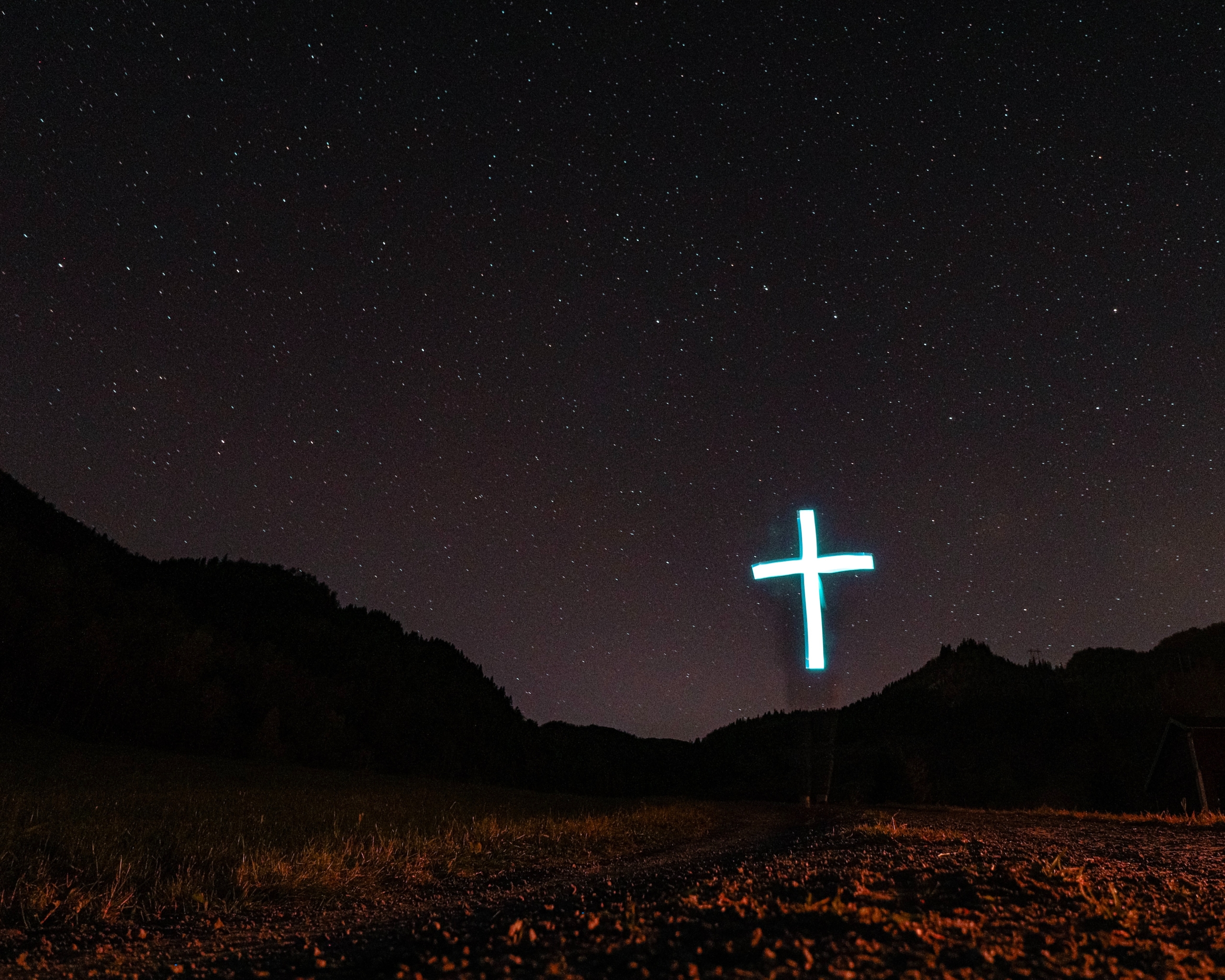 All across certain areas of the country, giant metal crosses have been popping up.
There's even a website called "Crosses Across America" that tells the story of how some of the crosses came into being: "The Roadside Cross Ministry began in 1984 when the late Reverend Bernard Coffindaffer erected the first trio of gold and blue Crosses in Flatwoods, West Virginia, about 65 miles north of Charleston. The former businessman-turned-evangelist was called by the Lord on a trip to Israel to build the Crosses. He liquidated his business and, under the guidance of the Holy Spirit, Coffindaffer spent nearly $3,000,000 planting Crosses in 29 states, the District of Columbia, Zambia and the Philippines until his death in 1993. "The Crosses stand to remind people that Jesus was crucified on a Cross at Calvary for our sins; there is hope in Jesus Christ; and, that He is soon coming again.""
The crosses Coffindaffer put up were always in groups of three –one large gold one in the center for Jesus and two smaller blue ones on each side for the thieves executed with Him.
During those last nine years of his life, Coffindaffer erected 1,900 crosses, and the work continues to this day throughout the nation. 
Other people are erecting crosses also. A man named James Potter has been erecting crosses up to 120 feet tall in Georgia, Florida, Alabama, Tennessee, and anywhere else he can. Potter says he's put up so many crosses, he's lost count.
And, inevitably, the crosses are not without controversy –but not like you might think.
Certainly one would expect atheist groups to object, but the crosses are on private, not public land, so I didn't find articles about anti-Christian groups objecting to them.
No, my pastor friend who told me about the crosses said the objections he's seen are from other Christians who publicly wonder whether the money spent on them wouldn't be better used for a youth center or something like that.
I've encountered this kind of complaining before. After my first mission trip, I came across a few people online who argued that we shouldn't do short-term mission trips because the money we spend on those trips would do more good if we were to give it directly to the people we were trying to benefit.
The problem with both those arguments is they sell God far short of what He's actually capable of doing.
It's not like the God who owns the cattle on a thousand hills and created the universe and everything in it is on a fixed income. 
Years ago, I was telling a dear sister in Christ about a church that was forever falling short of its budget and worrying about where their next dollar was coming from. Her response: "Is God poor?"
And it's not the church's money anyway. It's God's money. 
Does Paul sound like God's on a tight budget when he wrote Ephesians 3:20?
"Now all glory to God, who is able, through his mighty power at work within us, to accomplish infinitely more than we might ask or think."
Infinitely.
Jesus fed thousands with bread and fish that multiplied as He gave them out.
In 1 Kings 17, God multiplies the widow's oil and flour through Elijah so it never ran out. 
Now, don't get me wrong. We should most certainly not waste what God gives us. Good stewardship is part of being faithful and wise and diligent, but there is a distinct and certain difference between being wise and discerning with God's resources and being a mean, hard-edged, skinflint.
My point is that, from what I have seen of how God works, it's not an either-or thing. I think God can do both.
In the case of both the crosses and short-term mission trips, they can increase God's glory, the fame of Jesus, and spur us on to doing greater and greater things in the name of Jesus. If we respond to the critics who say those things are a waste of money with anger and hatred, we are just as guilty as the ones who complain. But, if we respond in love and agree that our town could certainly benefit from a Christian youth center or become involved in fund-raising for the people who touched our hearts on that short-term mission trip, then God's glory and His kingdom and His praises are multiplied.
As for how much, I'm reminded of what Jesus said in the parable of the sower in Mark 4:20:
Today's Praise
"And the seed that fell on good soil represents those who hear and accept God's word and produce a harvest of thirty, sixty, or even a hundred times as much as had been planted!"
https://kinshipradio.org/home/wp-content/uploads/2022/04/pexels-aslak-sonderland-3073565-scaled.jpg
2048
2560
Dan Jones
https://kinshipradio.org/home/wp-content/uploads/2016/09/kinship-long-logo-blue.png
Dan Jones
2022-04-07 01:51:11
2022-04-07 11:12:07
Is It Really Either Or?