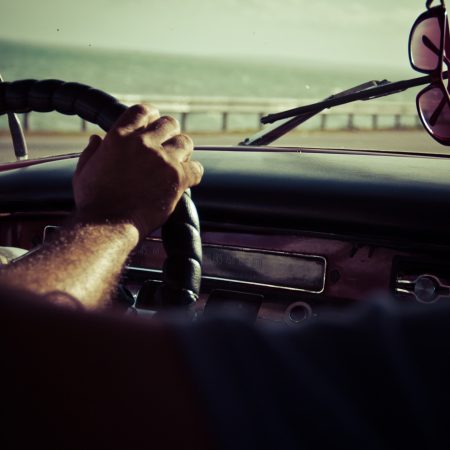 There's a question on the Kinship Christian Radio Facebook page right now asking, "What is your go-to worship song when you're feeling overwhelmed?" 
It's an excellent question to ask not only to get a handle on what you like to hear and what lifts up, supports, and encourages you, it's also a question that glorifies God by turning on the little light bulb in everyone's head about the power of the Holy Spirit moving through music. 
I'm very sure God likes music. The longest book in the Bible (Psalms) is a song book. Music is mentioned and included from Genesis to Revelation. Matthew 26:30 mentions Jesus and his disciples singing together. We are urged, even commanded, to make a joyful noise unto the LORD with a wide variety of instruments . (See Psalm 98.)
As you may have guessed, I am a huge fan of Christian music. My current favorite is "Child of Love" by We The Kingdom. It's my typical up-tempo, unfettered praise-of-God song that gets me singing along, chair dancing, and even playing the drums on the steering wheel — in the privacy of my own vehicle.  God has blessed me and gifted me in many, many ways. A golden singing voice, perfect pitch, and a flawless sense of rhythm are not among those gifts. 
And that's okay.
What God has given me is a deep, deep appreciation for the messages conveyed in music. While "Child of Love" may come off at first listen as just your typical feel-good, happy-thoughts Contemporary Christian toe-tapper, it has some pretty hefty theological density. In the space of four minutes and ten seconds, it makes reference to the parable of the prodigal son, choosing the narrow path, the lies the adversary tells us, shouting His praises from the mountain tops, freedom in Jesus Christ, Jesus calling us friends, the account of Daniel's three friends in the fiery furnace being rescued by Jesus, Lazarus being raised from the dead by Jesus, and the assurance and permanence of Jesus' love and relationship with us.  (See Romans 8:38.)
And throughout all that glorious, wonderful theology is the assurance that I am a child of love. 
Paul and John both wrote powerfully about that adoption as children of God throughout the new testament, but it's especially powerful in the book of Ephesians.  
That's almost certainly because of what happened in Ephesus. We know that both Paul and John spent considerable time in Ephesus. When Paul introduced the people of Ephesus to Jesus Christ, it so changed them that they went out and picked up abandoned, dying babies from the trash heaps and manure piles of their community and adopted them into their own families. (More details here: https://kinshipradio.org/home/2019/02/07/christians-at-the-dump/ )
And then, we read in Ephesians 1:5 that it was God's plan all along to add abandoned and unwanted dying children to the list of tax collectors and prostitutes, fisherman and shepherds, murderers and fiends, exiles and prodigals he would adopt not just as children, but as heirs of His kingdom: 
God decided in advance to adopt us into his own family by bringing us to himself through Jesus Christ. This is what he wanted to do, and it gave him great pleasure. (NLT)
And, as a dear sister in Christ recently pointed out to me, all of this gave God great pleasure! Strong's Exhaustive Bible Concordance defines the Greek word "εὐδοκίαν" (eudokian) translated here as "great pleasure" as, "satisfaction, i.e. delight, or kindness, wish, purpose."
Delight! God took delight in adopting you and me into His family! He planned it from the beginning and carried it out with His own Son through a cross and an empty tomb. 
So, yes, that calls for some toe-tapping, chair dancing, steering-wheel thumping JOY! 
HALLELUJAH!
Today's Praise
I'm gonna climb a mountain!
I'm gonna shout about it!
I am a child of love!
Lyrics from "Child of Love" by We The Kingdom.
https://kinshipradio.org/home/wp-content/uploads/2021/05/driving-691751_1920.jpg
1280
1920
Dan Jones
https://kinshipradio.org/home/wp-content/uploads/2016/09/kinship-long-logo-blue.png
Dan Jones
2021-05-13 01:11:08
2021-05-13 01:11:08
God's Delight