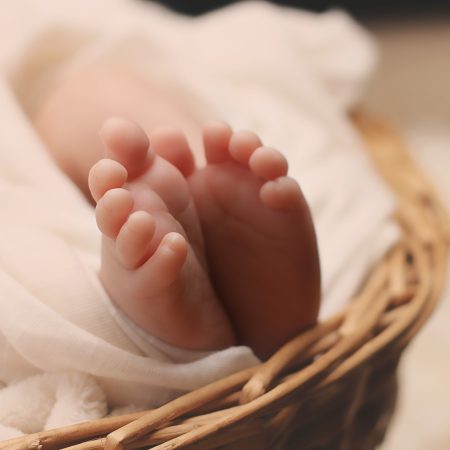 Perhaps you've heard Jason Gray's 2017 Christmas song "Baby King" playing every once in a while on Kinship Christian Radio during this Christmas season.
For some reason, that song has been repeating over and over in my heart lately. 
Ring every bell, shout out the message
All hail the coming of Jesus
Lord of us all, small and defenseless
Power comes swaddled in meekness
So don't be afraid, He came as a baby King.
Maybe it's that thought of power swaddled in meekness. Jesus, by whom and through whom and for whom all things were created –the supreme ruler of the universe– come down from the throne room of heaven as a baby lying in a manger.
Wrapped in humble cloths to keep Him safe and warm with farm animals around him, I'm guessing He looked nothing like the King of all the universe.
Even when shepherds came to worship Him and told their tale of an angel announcing this child's birth, of the whole night sky filled with armies of heaven praising God and glorifying Him for the coming of long-awaited Messiah, the humility of His birth would not have been diminished. 
Didn't the stable still smell like a stable? Weren't Mary and Joseph still desperately poor?
Was this any way for a king to be born?
Come now, you don't have to fear anymore
There's never been a king quite like this one before
He knows it's not easy to let down your guard
That it might take a baby to open your heart
And tenderly pull your defenses apart
Maybe He came in this way so that poor, messed-up, broken-down scallywags and scoundrels like me would come near to Him. Maybe Jesus didn't need to make a way for the powerful and the mighty who already hob-knobbed with kings and queens and rulers of this earth to come into His presence. 
Come see the wonder where new life begins
The child who can make us all children again
'Cause we've learned that power is something to fear
So we hide our hearts when power is near
But everything changes when a baby appears.
Maybe His disciples would remember that He came into this world as a child when He would later tell them, "I tell you the truth, anyone who doesn't receive the Kingdom of God like a child will never enter it." (Mark 10:15 NLT)
Maybe He meant that the Kingdom of God is meant to be received with all the joy and wonder and excitement of a kid at Christmas.
The morning is here, the child in me awakes
I throw back the covers and run to the place
Where my gift is waiting and I come face to face with the baby
Come see the baby King, come see the baby King
He changes everything, come see the baby King
Ring every bell, this is the birthday of Jesus
Come as a child, we are all children on Christmas.
Maybe, no matter how bleak and cold and dark this world gets, no matter how much it looks like the Spirit of Christmas has been snuffed out by the corruption and cares and evil of this world, maybe we can recall the greatest promise of all. 
Today's Praise
The light shines in the darkness, and the darkness has not overcome it. John 1:5 (ESV)
https://kinshipradio.org/home/wp-content/uploads/2020/12/pexels-pixabay-161534-1-scaled.jpg
1707
2560
Dan Jones
https://kinshipradio.org/home/wp-content/uploads/2016/09/kinship-long-logo-blue.png
Dan Jones
2020-12-16 22:30:09
2020-12-16 22:30:09
Power Swaddled in Meekness