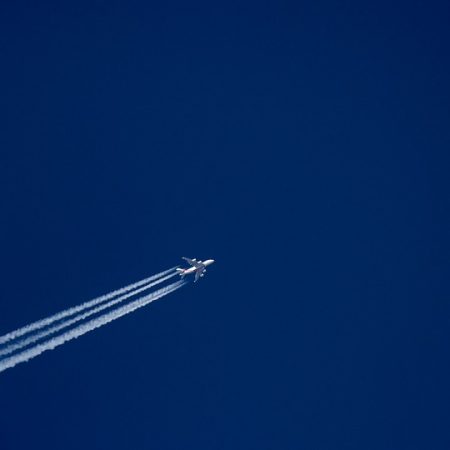 I've started taking a walk in the mornings.
I resisted it for years out of a combination of denial and laziness, but it's become abundantly obvious that I can no longer sustain a sedentary lifestyle without some pretty unpleasant side effects, including a shortened life span.
All temples require maintenance and the Bible clearly teaches that our bodies are a temple for the Holy Spirit. (1 Corinthians 6:19)
So, I get up early and I go for a walk. And, of course, I find that there are blessings I did not expect in doing what I did not want to do but should have been doing for years.
Monday morning was a good example.
It was a beautiful, clear, and cool morning with a gorgeous sunrise painting the sky golden and blue and white as the sun climbed over the eastern horizon. I looked up and, in that clear blue sky, the rising sun glinted off a commercial jet liner drawing an arrow-straight white line across the sky.
And I imagined the people on that jet-liner and I wondered if any of them were missionaries going to distant lands to share the love of Jesus to people far, far away.
It's been over a year since I've been on a mission trip. The one I was scheduled to go on last May would have been my second time in Israel, but the pandemic cancelled that.
My heart yearns to go and serve the Lord.
And then I faintly remembered a fragment from song I'd heard on Kinship Christian Radio…
"All those people going somewhere…"
And I could not remember the name of the song or the rest of the lyrics, but the yearning did not go away.
So, when I had time a little later, I typed those words into a search and I remembered that it was Brandon Heath's song "Give Me Your Eyes" and was very surprised to find how close that first verse fit what my heart was feeling:
Looked down from a broken sky
Traced out by the city of lights
My world from a mile high
Best seat in the house tonight
Touch down on the cold black-top
Hold on for the sudden stop
Breathe in the familiar shock of confusion and chaos
All those people going somewhere, why have I never cared?
But I have cared. The mission trips I've been on have indeed drawn me to care about others.
Give me your eyes for just one second
Give me your eyes so I can see,
Everything that I keep missing,
Give me your love for humanity.
Give me your arms for the broken-hearted
The ones that are far beyond my reach.
Give me Your heart for the ones forgotten.
Give me Your eyes so I can see.
Indeed, mission trips have opened my heart for other people I never knew existed before. I mean, I've certainly known that other people existed in other countries, but actually going to them and meeting them and talking to them and worshiping with them and experiencing their lives with them in the time and place where they lived opened up a love in me for all humanity.
I came to know them as real people.
There are hundreds of people in my life right now that I genuinely love and pray for that I did not know five years ago and I would not know had I not simply said, "Okay, God" and gone where He sent me. It's a lot like taking those walks in the morning. It seems like something that one would just as soon not do, but when you submit your will to Him and just do it, there are blessings that are multiplied both for me and for others. It's truly just like Jesus said. The kingdom of God really is like a tiny seed that one plants and it grows and branches and provides blessing after blessing. (Matthew 13:31, Mark 4:31, Luke 13:19)
And then it occurred to me that the plane I saw probably wasn't carrying missionaries to far-away lands because the pandemic was still mostly preventing that.
A little while later, a dear pastor friend posted a six-minute video on Facebook about how two people who were close to him passed away lately and he's had the opportunity and the privilege to offer some recognition of the value of those lives and share some words of hope to their friends and family. He spoke about how Jesus lived out, "–or rather loved out– something that looked impossible.
In the midst of times that are hard and unpleasant and so painful that we would never willingly choose to experience them, Pastor Tim said, "…Jesus is the One that spoke the truth. And I don't like the truth all the time. I don't like the fact that there's going to be trouble in this world, but there is. And I know that's true. So I know that me not having fear because I know that Jesus has overcome the world and He's poured His presence into people like you and me as we surrender our life to Him and receive the gifts that He gives us as new creations and as followers –into the world that He loved, so that He can love them through us and we can experience His power in our life. To me that's a really big deal. That's probably the best apologetic that I've ever found. I know a lot of things about the Bible and I can argue some historical facts, but one of the things that I have recognized is that nobody can argue against true love whenever we are just available and we know that the God who created us and the Jesus who reigns over eternity has promised that He's going to use His presence in our lives to allow us to experience Him."
And as he spoke those words, I was reminded once again that the love of God as expressed in the life, death, resurrection, and person of Jesus Christ is the most powerful force in the universe. I was reminded that, despite it all, despite all that hurts and all that we would rather avoid at all costs, Jesus has indeed overcome the world. Jesus is victorious and Jesus is indeed LORD.
So those people on that plane might not be missionaries going to Israel or Guatemala or the Dominican Republic or the Kingdom of Eswatini, but wherever that plane is going, there are people who need Jesus. There are people who need to know they are loved by the King of Universe, the Creator of all that is and was and is to come. There are people who need to know that love is real and it can be found in Jesus.
What that means is that the mission field is wherever you find it. In these days, right here and right now with all the conflict and the strife and the violence and the anger, there is a need beyond measure for genuine, real, heartfelt love for one another –even and especially for those who don't know Jesus. Yes, when the Lord opens the door for me to travel to distant lands, I will go where He sends me. But right now, it seems as if He is sending me and everyone who loves and follows Jesus to our next-door neighbors.
When I asked Pastor Tim for permission to quote him for this blog, he was reluctant because when what he said is transcribed into the written word, it reads like he would end up being famous for yet another run-on sentence, so I'll finish with his final thought:
"Do something to let someone know that you love 'em."
Yes, going out and actually loving someone may seem like going out for a walk when we'd rather be sitting at the kitchen table with a donut and coffee, but it is not something any of us will ever regret if we will just do it.
It really is that simple.
Today's Praise
By this everyone will know that you are my disciples, if you love one another. John 13:35 (NIV)
Pastor Tim Ogle's blog can be found here: https://becomingafollower.net/
https://kinshipradio.org/home/wp-content/uploads/2020/08/sky-1385789_960_720.jpg
540
960
Dan Jones
https://kinshipradio.org/home/wp-content/uploads/2016/09/kinship-long-logo-blue.png
Dan Jones
2020-08-19 22:56:16
2020-08-19 23:14:27
All Those People Going Somewhere...