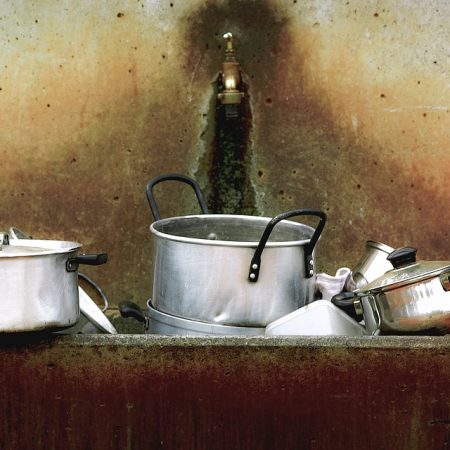 A couple of years ago, while I was on a mission trip to Guatemala, I was in the men's sleeping quarters to grab my backpack, my five-dollar missionary Bible, and some other essentials to use as our team prepared to go out and bless some people and this quick, impromptu prayer just popped right out of my mouth, 
"Lord, I really, really like what I'm doing right now. Thank you."
It was one of the most genuine prayers I have ever prayed. I was infinitely grateful to be doing what I was absolutely sure I should be doing where I should be doing it and when I should be doing it. I felt like I was designed and built for that moment, that place, that activity.
The recollection of that prayer and that time in my life came back to me when I heard, "I Was Made for This" by Charles Billingsley last week on Kinship Christian Radio. KCR has been playing the song for several weeks, but this was the first time I really heard it.
It's a wonderful song in which Billingsley makes the point that all of creation was made to glorify God and He has done so with incredible beauty in the lakes and trees, the galaxies. "The mountains soar, the oceans roar, " he writes, "But they are not enough to shout the praise of our Savior's grace."
Indeed, only we are who are saved, only those made holy and pure in the blood of the Lamb can praise Him for our glorious redemption. Hallelujah!
And as I was pondering that thought, I thanked Him again for that moment in Guatemala. I thanked Him for all the mission trips He has sent me on. I thanked Him for the times I've been given the opportunity to preach His Word. I thanked Him for the times I've been allowed to be on Kinship Christian Radio playing Jesus songs and talking about Jesus. I thanked him for the opportunity to write this blog.
All of these are things I feel I was made for. God has given me the gift of words and He has greatly blessed me to be able to do things that are "in my wheelhouse" so to speak. They feel natural and the praise that comes out of them brings me joy. 
But the more I think about it, what about all the other things I do? I used to spend a lot of my life wishing I wasn't doing what I was doing. Some of those things were sin, and I should not have been doing them. I was not made to sin.
But what about things like earning a living to support my family? What about mowing the lawn or washing the dishes or cleaning the bathroom? 
Wasn't I made to do those things too? 
And then I had a little bigger epiphany.
In Matthew 22 and Mark 12, the event is told of a Pharisee trying to trap Jesus. The teacher of the Law asks Him, 
"Teacher, which is the most important commandment in the law of Moses?" 
Jesus replied, "'You must love the Lord your God with all your heart, all your soul, and all your mind. This is the first and greatest commandment.  A second is equally important: 'Love your neighbor as yourself.' The entire law and all the demands of the prophets are based on these two commandments." (Matthew 22:36-40 NLT)
When I remembered these verses it suddenly occurred to me that loving God and loving each other is not an onerous, difficult, requirement placed on us as a burden –it's a glorious, wonderful gift! 
Loving God and loving each other is what we were made for! 
It's our design, our meaning, our purpose in life! 
So mowing the lawn or washing the dishes or cleaning the bathroom are expressions of our love for God and for each other. This was God's plan all along. No wonder the disciples could sing and rejoice when they were beaten and thrown into prison! They knew that's exactly what they were made for and everything that was happening to them was part of God's plan. 
We are not accidents of nature or ships tossed about in the darkness by random waves. As long as we are operating in His will, He has us covered. That's why we are more than conquerors. (Romans 8:37) 
That's why that little spontaneous prayer in Guatemala was so glorious. I had submitted myself to His plan with no thought whatsoever about complaining that I might have to wash a dish or clean a bathroom. 
And once again, I find that not only is there joy in all of this, there is this great, enormous, life-giving FREEDOM in serving God and giving myself up to Him that He would do with me whatever He wills! I'm not His slave, I am a member of His family! I am his child, an heir to the kingdom of heaven and I can call the God of the universe –the God who created absolutely everything to honor and praise Him–my Abba Father!
HALLELUJAH!
Lord, may I remember all of this when I am tempted to believe the lie that the gifts you put in my life are duties or obligations to be endured until something more pleasurable comes along. AMEN!
Today's Praise
For we are God's masterpiece. He has created us anew in Christ Jesus, so we can do the good things he planned for us long ago. Ephesians 2:10 NLT
Creation sings a melody
To the maker of all life
The lakes and trees, the galaxies
Lift high the name of Christ
The mountains soar, the oceans roar,
But they are not enough
To shout the praise
Of our Savior's grace
And the wonders of His love
I was made for this
I was made for this
I was made, oh I was made for this
Born to bless the name
Of the one who saves
For the glory is all His
I was made for this
The painted sky both day and night
How it makes His greatness known
Reminding us of His glorious
High and holy throne
Where angels sing to the King of kings
But there is so much more
Cause they can't praise Him for His grace
That's for those He died for
I was made for this
I was made for this
I was made, oh I was made for this
Born to bless the name
Of the one who saves
For the glory is all His
I was made for this
Worthy of the one who called me
Whose blood has made me clean
I'll know forever as I sing
The song of the redeemed
I was made for this
I was made for this
Oh I was made for this
I was born to bless the name
Of the one who saves
For the glory is all His
I was made for this
https://kinshipradio.org/home/wp-content/uploads/2020/08/dirty-dishes.jpg
640
960
Dan Jones
https://kinshipradio.org/home/wp-content/uploads/2016/09/kinship-long-logo-blue.png
Dan Jones
2020-08-05 22:41:16
2020-08-05 22:41:16
I Was Made for This