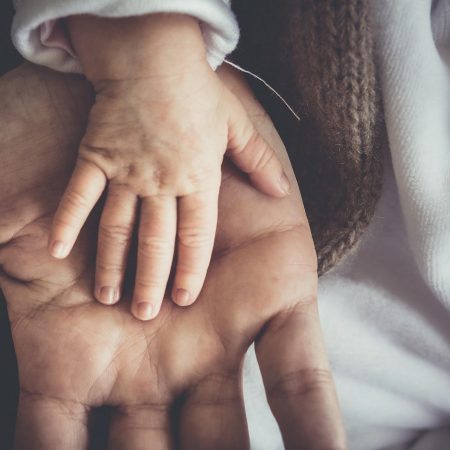 Some months ago, I read "Abba's Child: The Cry of the Heart for Intimate Belonging" by Brennan Manning.
I've written about Brennan Manning before, (April 4 of this year) but here's a refresher in case you forgot: If that name rings a bell but you can't quite place it, it's because Brennan Manning also wrote "The Ragamuffin Gospel," an excellent book which had a profound influence on Rich Mullins and his music. Manning was (he passed away in 2013) a Jesuit priest, a US Marine, and a reformed alcoholic. His books are filled with a deep, deep longing for people to have a real and genuine relationship with Jesus Christ and emphatically, boldly, and unashamedly welcomes the tax collectors and prostitutes of this world into the kingdom of heaven ahead of any and all Pharisees.
With Father's Day coming up this Sunday, you will no doubt hear many songs and teachings on Kinship Christian radio about our earthly fathers and our heavenly Father. So, I thought it would be a good time to share some of Manning's insights on the character and nature of our heavenly Abba Father and who we are in His eyes:
"Scripture suggests that the essence of the divine nature is compassion and that the heart of God is defined by tenderness."
"The engaged mind, illuminated by truth, awakens awareness; the engaged heart, affected by love, awakens passion. May I say once more – this essential energy of the soul is not an ecstatic trance, high emotion or a sanguine stance toward life: It is a fierce longing for God, an unyielding resolve to live in and out of our belovedness. "
"[The] insistence on the absolutely indiscriminate nature of compassion within the Kingdom is the dominant perspective of almost all of Jesus' teaching.
What is indiscriminate compassion? 'Take a look at a rose. Is is possible for the rose to say, "I'll offer my fragrance to good people and withhold it from bad people"? Or can you imagine a lamp that withholds its rays from a wicked person who seeks to walk in its light? It could do that only be ceasing to be a lamp. And observe how helplessly and indiscriminately a tree gives its shade to everyone, good and bad, young and old, high and low; to animals and humans and every living creature — even to the one who seeks to cut it down. This is the first quality of compassion — its indiscriminate character.' (Anthony DeMello, The Way to Love)…
What makes the Kingdom come is heartfelt compassion: a way of tenderness that knows no frontiers, no labels, no compartmentalizing, and no sectarian divisions."
"When belonging to an elite group eclipses the love of God, when I draw life and meaning from any source other than my belovedness, I am spiritually dead. When God gets relegated to second place behind any bauble or trinket, I have swapped the pearl of great price for painted fragments of glass."
"My identity as Abba's child is not an abstraction or a tap dance into religiosity. It is the core truth of my existence. Living in the wisdom of accepted tenderness profoundly affects my perception of reality, the way I respond to people and their life situations. How I treat my brothers and sisters from day to day, whether they be Caucasian, African, Asian, or Hispanic; how I react to the sin-scarred wino on the street; how I respond to interruptions from people I dislike; how I deal with ordinary people in their ordinary unbelief on an ordinary day will speak the truth of who I am more poignantly than the pro-life sticker on the bumper of my car. We are not for life simply because we are warding off death. We are sons and daughters of the Most High and maturing in tenderness to the extent that we are for others—all others—to the extent that no human flesh is strange to us, to the extent that we can touch the hand of another in love, to the extent that for us there are no "others."
Nowhere in Scripture is the indiscriminate compassion, the unrelenting tenderness, the reckless all-consuming love of God more evident than in that one verse we all know so well:
For God so loved the world that he gave his one and only Son, that whoever believes in him shall not perish but have eternal life. John 3:16 NIV
Yes, God the Father, the Abba of all, gave up His one and only Son –His perfect and blameless Son– and allowed him to be subjected to unspeakable pain and degradation and cruelty so that you and I could have eternal life that we did not deserve, could not earn, and can never repay. 
That is the heart of a true Father. 
It's a standard I know can never fully achieve in this life.
But I can try.
Today's Praise
And because we are his children, God has sent the Spirit of his Son into our hearts, prompting us to call out, "Abba, Father." Galatians 4:6 (NLT)
https://kinshipradio.org/home/wp-content/uploads/2020/06/hand.jpg
1279
1920
Dan Jones
https://kinshipradio.org/home/wp-content/uploads/2016/09/kinship-long-logo-blue.png
Dan Jones
2020-06-18 00:01:52
2020-06-18 00:01:52
Abba