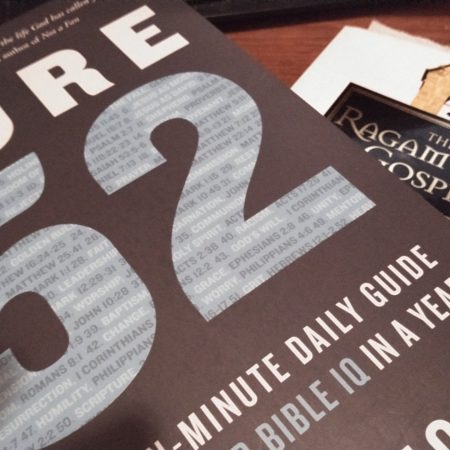 I was reading "Core 52" this morning, and came across a truly excellent explanation of personal holiness. I think it's the best I've ever seen. (That would be according to my personal opinion, for whatever that's worth.)
Oh, backing up for a bit, Core 52 is a book by Mark E. Moore with the subtitle, "A fifteen-minute guide to build your Bible IQ in a year." I'm studying this with about ten other guys from around the country and we discuss the lessons via a cell phone app I don't think I'm authorized to dole out free publicity to at this time. 
Anyway, Moore makes the point that most of us think of something as "holy" as sacred, pure, undefiled, and perfect. Yes, God is all of those things, but holy also means "selected." Something is holy if God picked it out Himself and made it holy by the act of claiming it as His own.  Moore writes, "This is the heartbeat of 2 Timothy 1:9, where Paul said "God saved us and called us to a holy calling, not because of our works but because of his own purpose and grace, which he gave to us in Christ Jesus before the ages begin." This kind of holiness is attractive, even enviable, to a watching world."
Although Moore never uses the phrase, this fits into what I have long been taught: That "holy" means "set apart."
Moore also quotes Romans 12:1-2:
Therefore, I urge you, brothers and sisters, in view of God's mercy, to offer your bodies as a living sacrifice, holy and pleasing to God—this is your true and proper worship. Do not conform to the pattern of this world, but be transformed by the renewing of your mind. Then you will be able to test and approve what God's will is—his good, pleasing and perfect will. (NIV)
Again, the idea of something God has chosen for Himself makes personal holiness something far different than an ascetic abstention from sin solely for the purpose attempting to win God's favor through self-denial. 
In Moore's words: "Just to ensure we're on the same page before moving on, let me restate this as clearly as I can: You are holy not because of your performance but because of God's proclamation. You don't become holy through religious rites. You don't develop holiness through sheer discipline. You become holy the millisecond God places his hand on you and says "Mine."
And what flows out of being chosen by God as His own, of being picked for His own purposes and favored and blessed in that amazing way naturally changes the way we live our lives. If I am chosen by God by Him and for Him, what I choose to do with my life now become far more clear. It's not that I have to abstain from sin to make God like me. It's that I am His, so why would I want to mess up what God chose for Himself? 
We abstain from sin out of gratitude, awe-struck that the God of the universe would want someone like me to be a part of His plans! This God who chose me and loves me that much, that He would choose me, is a God I want to worship and glorify and praise with my every action, every breath, every word!
Which then leads me to another book.
At the same time I am involved in Core 52, I am also reading that classic and wonderful masterpiece by Brennan Manning called, "The Ragamuffin Gospel." Or, as like to call it, "Salvation for Scalawags." 
Manning was a Marine, a Korean War veteran, an ordained Franciscan Priest, and an alcoholic. He confronted his alcoholism and began writing books in the 1970's. Rich Mullins and several other Christian artists were influenced by Manning's description of Jesus as a Savior who came to free the scalawags and ragamuffins of this world from sin and shame.
Manning wrote for the black sheep of this world –and my life is filled with them. Alcoholics, drug addicts, orphans, the poor, the messed-up, the people who most people thought would never amount to much. Those are the people I'm happy to have cash sent to automatically from my checking account every month.
I hope there are tens of thousands of them listening to Kinship Christian Radio right now.
And, as I'm reading The Ragamuffin Gospel this morning, Manning dropped my jaw on the floor when he wrote: "Carl Jung, the great psychiatrist, once reflected that we are all familiar with the words of Jesus, "Whatever you do to the least of my brethren, that you do unto me." Then Jung asks a probing question: "What if you discovered that the least of the brethren of Jesus, the one who needs your love the most, the one you can help the most by loving, the one to whom your love will be the most meaningful –what if you discovered the this least of the brethren of Jesus…is you?"
And suddenly, Luke 10:27 became a whole lot easier.
Today's Praise
He answered, "'Love the Lord your God with all your heart and with all your soul and with all your strength and with all your mind'; and, 'Love your neighbor as yourself.'"  Luke 10:27 (NIV)
https://kinshipradio.org/home/wp-content/uploads/2016/09/kinship-long-logo-blue.png
0
0
Dan Jones
https://kinshipradio.org/home/wp-content/uploads/2016/09/kinship-long-logo-blue.png
Dan Jones
2020-01-23 02:39:27
2020-01-23 02:39:27
Two Books and Ten Thousand Black Sheep