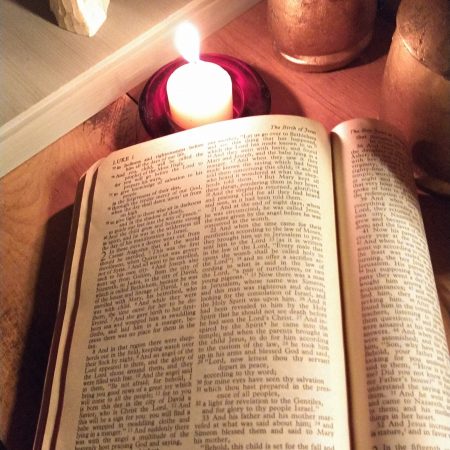 Just two weeks ago, I posted a blog about Christmas lights and their symbolism of Jesus as the light of the world.  https://kinshipradio.org/home/2019/12/12/light-of-the-world/
Very shortly thereafter, a friend of mine on social media posted a link to a blog titled "Joyful and Triumphant" written by Dave Gipson in which he makes almost exactly the same point. http://davegipson.net/joyful-and-triumphant/
Gipson, however, related a very interesting story about what happened when a school district in Kentucky attempted to put on a live production of "A Charlie Brown Christmas." (Which, not incidentally, is my favorite television Christmas program and which I wrote about in 2012  https://kinshipradio.org/home/2012/12/11/putting-christ-back-in-christmas/ and in 2017  https://kinshipradio.org/home/2017/11/30/christmas-as-invasion/ )
It seems while the play was still in practice, someone complained about the Bible verse Linus recites near the end of the show (Luke 2: 8-14) and threatened a lawsuit. Of course, the school caved in and it was decided that the show would go on, but the young man playing Linus was instructed to simply stand on stage silently during the time when the Bible passage should be recited and then after several moments of what only could have been described as the most awkward silence ever, give the famous line, "That's what Christmas is all about, Charlie Brown." 
Obviously, that would make the whole play meaningless –but that's not what happened. As Gipson recounts it:
"Just as the boy playing Linus came to his lines quoting Scripture but paused, it was then a sound began to waft through the auditorium like the singing of the Whos from Whoville. Someone in the audience stood and began reciting the Luke passage, then another joined in. And then another. Soon the whole room is standing and reciting along.
When the boy ending the moment by saying, "That's what Christmas is about, Charlie Brown", a cheer went up from the audience. The Grinch had tried to steal Christmas, only to start a celebration!"
Gipson's point was the same as mine. The light shines in the darkness and the darkness cannot put it out! God Himself came as a little baby in a manger in the dark of night and shone a light that is still changing the world 2000 years later. 
The light of the Christmas star, the light of the Christmas angel, the light of the armies of heaven, the light of the glory of the LORD God, the light of JESUS still shines in the darkness! 
Today's Praise 
And there were in the same country shepherds abiding in the field, keeping watch over their flock by night. And, lo, the angel of the Lord came upon them, and the glory of the Lord shone round about them: and they were sore afraid. And the angel said unto them, Fear not: for, behold, I bring you good tidings of great joy, which shall be to all people. For unto you is born this day in the city of David a Saviour, which is Christ the Lord. And this shall be a sign unto you; Ye shall find the babe wrapped in swaddling clothes, lying in a manger. And suddenly there was with the angel a multitude of the heavenly host praising God, and saying,
Glory to God in the highest, and on earth peace, good will toward men.
Luke 2:8-14 (KJV)
Note: Two years after "The Charlie Brown Incident," the Kentucky State Legislature passed a bill clarifying that religious expression of this kind is legal in Kentucky public schools. The governor signed it into law on March 20, 2017.
https://kinshipradio.org/home/wp-content/uploads/2019/12/luke-2.jpg
4160
2340
Dan Jones
https://kinshipradio.org/home/wp-content/uploads/2016/09/kinship-long-logo-blue.png
Dan Jones
2019-12-24 15:43:27
2019-12-24 15:43:27
Light of the World, Part Two