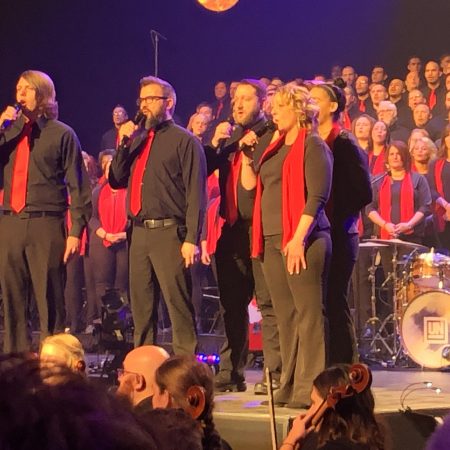 My lovely wife and I attended the 12th annual Minnesota Adult and Teen Challenge Christmas Concert last Saturday night.
As always, it was wonderful.
As always, it brought me to tears.
And I cannot help but think about all the people who, at this joyous and glorious time of year, are having a blue Christmas. 
While many of us can't wait for the joy of celebrating the coming of our Savior to earth to save us from our sins, others have great difficulty coping with the loss of loved ones, broken relationships, and the loneliness associated with those situations. 
And that's exactly why this concert is so uplifting.
Because, when Jesus saves someone from an addiction to drugs and/or alcohol, it doesn't just change one life. It breaks a cycle of addiction and sin and despair that most likely has been going on for generations and would continue to go on for future generations if the enemy of our souls continued to have his way.
Jesus restores families, he heals relationships, he gives sight to the blind, and he really and truly does raise the dead to life. A vast majority of those 300 people on that stage will tell you they would probably have been dead in the very near future if Jesus hadn't saved them and adopted them as children of the One True God.
Many of the people in that choir already have children and most will eventually have children. If not for what Jesus does through Minnesota Adult and Teen Challenge, those children would have parents who are addicts and would likely grow up to be addicts themselves.
But that horrific cycle of destruction and hopelessness ends when Jesus changes a life. For all who suffer from depression at this time of the year, here, standing before a couple of thousand people, was the answer. 
The answer is the love, the hope, the miracle of Jesus Christ who changes everything. 
And that's why I cried when a lady named Amanda sang in this beautiful, brave and clear voice,
"Noel, Noel. Come and see what God has done."
Indeed, it was what God had done.
Throughout the night, people got on stage and testified about the abuse, the neglect, the rejection, the bullying, and all the things that made them want to find a way to numb the pain caused by what they had suffered. And God, through the love of Jesus Christ, was healing them so they didn't have to be numb anymore to survive.
The featured artist of the night was the band Unspoken. At one point, lead singer Chad Mattson related that he had been sober for 17 years by the power of Jesus Christ. He said Jesus changed his life back then in a 12'x12′ room in the Dominican Republic. And then he shared Ephesians 3:20 with those who were in the process of having their lives changed:
Now all glory to God, who is able, through his mighty power at work within us, to accomplish infinitely more than we might ask or think. (NLT)
And then Unspoken sang their chart-topping song, "Reason." (Which I am sure you have heard on Kinship Christian Radio at some point.) The whole song has excellent lyrics, but these especially caught my attention:
If we could pull back the curtain of Heaven
We would see His hand on everything
Every hour every minute every second He's always been in it
Don't let a shadow of a doubt take hold
Hold on to what you already know
He put that hunger in your heart
He put that fire in your soul
His love is the reason
To keep on believing
Yes, Jesus is indeed the reason to keep on believing. 
And Jesus is the reason that this season, this time when we celebrate Jesus come to earth in the most humble and lowly way one could imagine, is the time to sing and celebrate the glorious and amazing and powerful wonders of His love. 
As the concert neared it's end, a man named Arturo took the stage and, in this deep, booming, powerful voice just belted out the song, "No Longer Slaves" by Bethel Music. 
You split the sea
So I could walk right through it
You drown my fears in perfect love
You rescued me
And I will stand and sing
I am a child of God!
So, to all those in Minnesota Adult and Teen Challenge whose Christmas present is the Holy Spirit affixing His seal, His guarantee on their adoption papers making them His own dear children, all of us at Kinship Christian Radio say, "Welcome to the family of God." 
HALLELUJAH!
Today's Praise
And when you believed in Christ, he identified you as his own by giving you the Holy Spirit, whom he promised long ago. The Spirit is God's guarantee that he will give us the inheritance he promised and that he has purchased us to be his own people. He did this so we would praise and glorify him. Ephesians 1:13b&14 (NLT) 
Photo by Tracy Jones. Used with permission.
https://kinshipradio.org/home/wp-content/uploads/2019/12/Teen-challenge.jpg
3024
4032
Dan Jones
https://kinshipradio.org/home/wp-content/uploads/2016/09/kinship-long-logo-blue.png
Dan Jones
2019-12-19 02:21:40
2019-12-19 02:21:40
Come and See What God Has Done