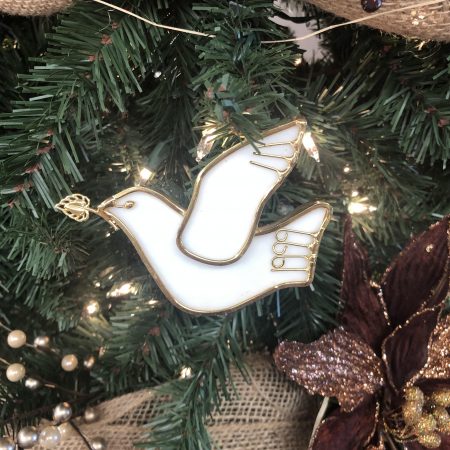 Listening to Allen Jones on Kinship Christian Radio the week before Thanksgiving was like… like a writer struggling to come up with words to describe a junkie anticipating his next fix without offending the junkie.
Now, before I irreparably offend Allen, let me be clear that I am NOT in any way talking about drugs or any illegal substance of any kind here, but one could pretty easily tell that Mr. Allen Jones was seriously jonesin' for some Christmas music last week.
I love Allen like he's family, (we are related only as brothers in Christ) but I could tell he had put himself on a leash that was as tight as a banjo string strung between a sleigh containing every present Santa would deliver on Christmas eve in all the world and a hundred dozen magical flying reindeer. 
Don't get me wrong. This is a good thing. 
If you've ever listened to a radio announcer who hated playing Christmas music on a different radio station, you would be grateful that Mr. Allen's Christmas Spirit seems unquenchable. 
By the way, there's a reason I capitalized "Spirit" in the last sentence. 
As I wrote on this blog about three years ago, the Christmas Spirit is the Holy Spirit.
If you think I'm doing a little stretching of my own, keep reading.
Let's go all the way back to some Old Testament prophesy: 
The Spirit of the LORD will rest on him– the Spirit of wisdom and of understanding, the Spirit of counsel and of might, the Spirit of the knowledge and fear of the LORD– (Isaiah 11:2 NIV)
Yes, Isaiah prophesied that the Holy Spirit would rest on Jesus. That's not surprising from where we sit now.
But look what Matthew says about how Mary come to be with child:
Now the birth of Jesus Christ took place in this way. When his mother Mary had been betrothed to Joseph, before they came together she was found to be with child from the Holy Spirit. (Matthew 1:18 ESV)
And surely, we all remember this conversation between Mary and the angel Gabriel:
"You will conceive and give birth to a son, and you are to call him Jesus. He will be great and will be called the Son of the Most High. The Lord God will give him the throne of his father David, and he will reign over Jacob's descendants forever; his kingdom will never end." "How will this be," Mary asked the angel, "since I am a virgin?"The angel answered, "The Holy Spirit will come on you, and the power of the Most High will overshadow you. So the holy one to be born will be called the Son of God. (Luke 1:31-35 NIV)
After Jesus is born, there's an old guy who's been hanging out in the temple forever and: 
Now there was a man in Jerusalem called Simeon, who was righteous and devout. He was waiting for the consolation of Israel, and the Holy Spirit was on him. It had been revealed to him by the Holy Spirit that he would not die before he had seen the Lord's Messiah. Moved by the Spirit, he went into the temple courts. When the parents brought in the child Jesus to do for him what the custom of the Law required, Simeon took him in his arms and praised God, saying:
"Sovereign Lord, as you have promised, you may now dismiss your servant in peace. For my eyes have seen your salvation, which you have prepared in the sight of all nations: a light for revelation to the Gentiles, and the glory of your people Israel." (Luke 2: 25-32 NIV)
That's three times in three consecutive sentences that Luke tells us what was going on in Simeon was the work of the Holy Spirit!
Still not convinced? Try this on for size:
But the fruit of the Spirit is love, joy, peace, forbearance, kindness, goodness, faithfulness, gentleness and self-control. Against such things there is no law. (Galatians 5: 22&23 NIV)
Did you get a little Christmas glow when you read that?
I thought so.
Yes, Virginia, the Christmas Spirit is indeed the Holy Spirit. 
And that's why this time of year is our best chance of letting people see Jesus in us through the power of the Holy Spirit. We cannot talk anyone into believing in Jesus, but the Father can draw people to Jesus through the work of the Holy Spirit.
The glorious part of this is that we do not have to try to grab on to God to shine with the light of the Holy Spirit. We do not have to grasp at being godly, for if we empty ourselves of pride and arrogance and receive the Holy Spirit like servants humbly and obediently receiving a precious gift, Jesus draws people to Himself. 
We just have to let Him.
So, this Christmas, do not let the busyness or the rush or the hectic dashing about quench the fire of the Holy Spirit in you. Let those Christmas songs sink in and fill you with a glow that will make others wonder why you're like that. Encourage and fan the flames of the Holy Spirit in others. If a co-worker is quietly playing Christmas songs at their desk, ask them to turn it up. Share some Christmas cookies early. Go to a Christmas concert and invite some friends. Invite a friend to church two weeks BEFORE Christmas! Give someone a gift who would never expect to receive one. Donate generously to a charity. Do your shopping while humming –or better yet singing out loud– a Christmas carol!
Or go on one of Kinship's social media pages and participate in our Kinship Christmas Carol Takover by posting a video of yourself singing a Christmas Carol!
What are they going to do? Throw you in jail for having too much Christmas Holy Spirit? 
Today's Praise
If you then, though you are evil, know how to give good gifts to your children, how much more will your Father in heaven give the Holy Spirit to those who ask him!" Luke 11:13 (NIV)
https://kinshipradio.org/home/wp-content/uploads/2019/12/dove.jpg
4032
3024
Dan Jones
https://kinshipradio.org/home/wp-content/uploads/2016/09/kinship-long-logo-blue.png
Dan Jones
2019-12-05 02:13:53
2019-12-05 02:13:53
That Christmas Spirit