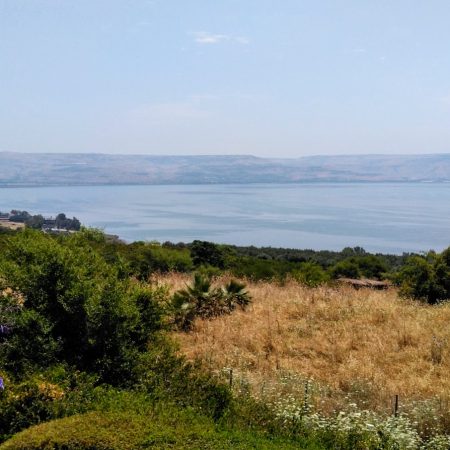 The Sea of Galilee, taken from the Mount of Beatitudes. (Photo by author.)
There have only been a few times in my life when I got a glimpse of the real magnitude of the love of God.
The first one was when I was maybe nine years old. I don't remember if it was a Sunday School or Vacation Bible School, but I remember being flooded with peace and joy and light and love –and I knew it was Jesus. I knew I had been saved.
The second time was much, much later. I was on a mission trip to the Dominican Republic in 2015. It's a very long story, but I had been sick and I was thanking a sister in Christ for taking care of me. I spoke almost no Spanish and she spoke almost no English. I had a two-dollar Spanish-English dictionary in my hand and she looked me in the eye and said something in Spanish that started with "Denada" and ended with "amo." 
I didn't need that $2 dictionary to know she had said, "You're welcome. It is all done in love." 
And in that moment, the Holy Spirit poured out on me an overwhelming sense of the magnitude of God's love for me and all people.
And it changed me forever. 
It happened again in May when I went to Israel. I cannot explain why, but the Mount of Ascension and especially the Sea of Galilee brought me to tears on more than one occasion. I'm talking about uncontrollable, pouring-out-my-heart blubbering tears.
And then, just a couple of days ago, I was praying and God again showed me how much He loves. This time it was just a little gasp, just a brief moment of having my breath taken away –but it reminded me of all those other times He gave me a glimpse of what lies on the other side of this dim reflection in the mirror. (1 Corinthians 13:12)
If you're paying attention, you'll notice that in all those cases where I tried to describe how big God's love is, I really didn't do a very good job of it. 
That's because it is impossible to describe. Words are not enough.
Some of my favorite songs have tried to describe it:
"Your love, oh Lord, reaches to the heavens," sang Third Day. 
"Your love, it is extravagant," sang Casting Crowns.
Cory Asbury sang God's love  is "reckless" as He leaves the ninety-nine and comes searching for the one lost sheep.
In "Oh How He Loves Us" David Crowder  sings:
And He is jealous for me.
Love's like a hurricane. I am a tree,
Bending beneath the weight of His wind and mercy.
A beautiful old hymn called "The Love of God is Greater Far" (which I've heard on Kinship Christian Radio sung by Mercy Me) says that if all the sky were parchment and all the seas were filled with ink and every reed on earth were a pen and every man on earth a scribe, to write the love of God would drain the oceans dry. It ends with, "Nor could the scroll contain the whole, Though stretched from sky to sky."
And while they are all beautiful, glorious songs, and even though the Holy Spirit does move through word and song, none of them describes the love of God completely and adequately.
Of course, there are many verses in Scripture that speak of God's love:
And now these three remain: faith, hope and love. But the greatest of these is love. 1 Corinthians 13:13
And so we know and rely on the love God has for us. God is love. Whoever lives in love lives in God, and God in them. 1 John 4:16
But you, Lord, are a compassionate and gracious God, slow to anger, abounding in love and faithfulness. Psalm 86:15
 Give thanks to the God of heaven. His love endures forever. Psalm 136:26 
Certainly, those verses give us some of the attributes of God's love for us, and they are all true…but as for really describing that love in all it's fullness, I'm still coming up short.
One of my favorite set of verses is Ephesians 3: 17b-19:
"And I pray that you, being rooted and established in love, may have power, together with all the Lord's holy people, to grasp how wide and long and high and deep is the love of Christ, and to know this love that surpasses knowledge—that you may be filled to the measure of all the fullness of God."
Paul writes as if the love of God has physical dimensions –and hopes that the Ephesians will know it, but openly acknowledges he cannot adequately describe it because it surpasses knowledge.
And that's because there are really are no words to describe that which is infinite. 
In purely human terms, it is impossible to truly, fully, adequately understand or describe the infinite love of an infinite God.
But there is one thing that shows us the width, the length, the height, the depth, of God's love for us:
"For God so loved the world that he gave his one and only Son, that whoever believes in him shall not perish but have eternal life." John 3:16
It is that image of Jesus on the cross, that moment when the sky went dark and the rocks split in two and the dead came out of their graves and the curtain of the temple was torn in two and He cried out, "It is finished!"
Because in that moment, in that one moment that changed the history of the world more than any other moment in history, our sins were forgiven and His love brought us back to Him as the sons and the daughters we were meant to be. In that moment, when we had done nothing to earn it or deserve it, love conquered all the sin and darkness and hate and evil that this world would ever generate. 
In that moment of infinite love, that pinnacle moment of the ultimate public display of affection, He did what we could not do. He described His love for us in a moment that could never be forgotten or denied. 
He wrote it on our hearts, signed it in His blood, proved it to all the world forever when He stepped out of the tomb alive, and sealed it with a guarantee from his own Holy Spirit for every soul that would come to believe in Him.
So, as we celebrate Thanksgiving and thank Him for food and clothing and homes and family and all the innumerable physical blessings He has poured out on us in His great love, let us celebrate a Praisegiving for a love of our very souls that we don't have the words to adequately express. 
Today's Praise
If anyone acknowledges that Jesus is the Son of God, God lives in them and they in God. And so we know and rely on the love God has for us. 1 John 4: 15-16 
(All Bible verses above are NIV)
https://kinshipradio.org/home/wp-content/uploads/2019/11/heights-Galilee.jpg
906
1612
Dan Jones
https://kinshipradio.org/home/wp-content/uploads/2016/09/kinship-long-logo-blue.png
Dan Jones
2019-11-27 14:24:46
2019-11-27 14:24:46
Praisegiving