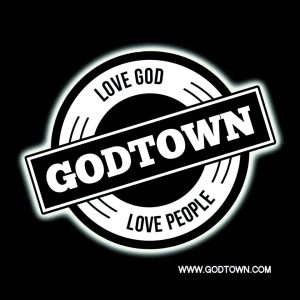 For regular readers of this blog, you may remember that I went on a trip to Israel last May with about 30 other people. Three of those people were affiliated with a ministry called, "Godtown."
That's a pretty interesting name for a ministry and I was, of course, intrigued.
They also have a cool logo that says, "Love God, Love People," so how could I resist that? 
Well, it took me about six months, but last week I finally followed up on my curiosity after a dear sister posted a video of ministry actually taking place in Godtown.
Godtown is a community of about 30 missionaries living in a low-income, high-crime neighborhood of St. Paul called "Frogtown." It's very near the State Capital along University Avenue in the Thomas-Dale neighborhood. I was unable to find any historical documentation regarding an abundance of frogs. 
The missionaries of Godtown minister to and evangelize in the local community and they send out missionaries to preach the Gospel of Jesus Christ all over the world. It's a training ground for missionaries to grow and learn and be equipped to shine the love of Jesus Christ locally and globally.
One of their goals is to reduce crime in the neighborhood by building relationships through their Safe City Project. This involves a community center, two community gardens, and a wide variety of events throughout the year to bring people together. They help with food, shelter, alcohol and drug addiction, domestic violence, and basically all of the human needs a ministry of this kind encounters.
The buildings where the missionaries live where purchased and renovated by Godtown. In addition, they have been involved in the renovation or repair of about twenty other houses in the neighborhood.
They also host teams from local churches who wish to participate in their ministry, and they send missionaries out to local churches to engage them in the Great Commission and serve as a mission base. 
Obviously, that's all right in my wheelhouse, but why am I writing about this on the Kinship Christian Radio blog?
Certainly, we are all brothers and sisters in Christ and it is absolutely wonderful to see what Godtown is doing in the name of our Savior because it encourages and lifts us all up, but there's another connection that made me grin from ear to ear.
You may remember that KJLY, Kinship Christian Radio's first station, started with a recurring dream that came to a farmer named Maury Schwen in the early 80's in which he saw a radio tower with the words "JESUS IS LORD" on it. Through much prayer by many people, Kinship Christian Radio came into being and was blessed by the LORD over and over. 
In a strikingly similar way, a lady named Jen Tolo had a recurring dream of a dilapidated house with a golden cross hovering over it. She and her husband, John, found that house under the golden cross of the Church of St. Agnes in Frogtown. It was in foreclosure at the time and they didn't have the money to buy it, but through much prayer, God made a way and Godtown was eventually born. 
When I stopped in on the people of Godtown one morning last week along with my friend and brother Kenny Ortiz, I wanted to get an idea of who they were and what they were doing and if there was a way to partner with them in fanning the flames of the Holy Spirit in local churches around the state.
Kenny and I were immediately welcomed in like family. They started with an hour of heartfelt praise, then began studying Scripture and talking about how to effectively present their testimonies. As they went around the room telling how they came to be in Godtown, it was amazing how many had been drawn there by a dream of some kind. 
God does truly work in mysterious and amazing ways.
We talked, we laughed, we basked in the glow of the Holy Spirit, we went out to lunch where I experienced a delicious Vietnamese soup called phở for the first time, we ministered to a homeless man looking for work, and before I knew it, I had spent six hours with some wonderful people I now count as family.
In the end, I was quite certain this had not been my last trip to Godtown.
Today's Praise
"You are the light of the world. A town built on a hill cannot be hidden." Matthew 5:14 (NIV)
https://kinshipradio.org/home/wp-content/uploads/2019/11/godtown.jpg
960
960
Dan Jones
https://kinshipradio.org/home/wp-content/uploads/2016/09/kinship-long-logo-blue.png
Dan Jones
2019-11-21 02:09:14
2019-11-21 02:10:58
Godtown