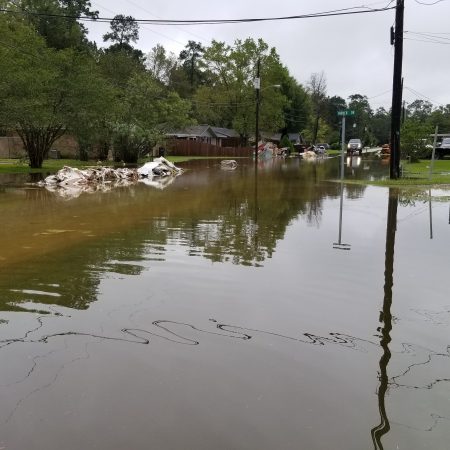 About a year ago, I joined a mission team that ventured to a small town in southeast Texas called Vidor to help fix homes damaged by the 60 inches of rain dumped on them by Hurricane Harvey in 2017. ( See "Kin" in the blog archive.)
About a month ago, tropical depression Imelda came along and hit Vidor again with another 40 inches of rain, flooding many of the same homes that were devastated by Harvey. (See "Overcomer" from Sept. 26 of this year in the archive.)
Some of the homes damaged in Harvey weren't even fully repaired before Imelda hit.
None of the hearts torn apart by Harvey were ready for what Imelda did.
My friend and brother in Christ, Pastor Skipper Sauls of Shiloh Missionary Baptist Church, had his own home flooded again. 
The home where I spent a week last year installing ceramic tile on the floors had 14 inches of flood water cover that tile.
Now, you'd think that ceramic tile would survive being flooded, especially since it was installed over a concrete floor. But, those floodwaters carry with them bacteria and mold spores that seep into the grout and even into the tiny spaces under the tile in the mortar that holds them down. Skipper says leaving that tile in place is an open invitation for respiratory disease.
The family living in the home is understandably despondent. I would be too.
All that work will now have to be repeated. 
They will persevere. They will repair the home with help from their church family and life will go on.
Eventually.
But getting from where they are now to where they will eventually be actually has the potential to be more difficult than the first time. The FEMA trailer they lived in for over a year while their home was repaired is gone. Imelda didn't generate the press Harvey did, so there is less state and federal help. And, for people who did have flood insurance, the insurance companies seem a little less compassionate than they were during Harvey.
And thrown into all of this are countless miles of drainage ditch, acres and acres of bayou and wildlife areas, restoration of wildlife areas involving placement of dredge spoils, road construction that may have effected drainage patterns, and probably a dozen other factors I'm not aware of. Obviously, an effective, well-maintained, and properly-designed drainage system is essential in an area that's all of 20 feet above sea level.
It also doesn't help that in the year in between Harvey and Imelda (2018) the area received 88.75 inches of rain, or about 50% more than the long-term average.
On the day our team first went to work on a home that had not been damaged by Harvey but was soaked to the point of having to remove all of the drywall, a two-inch rain resulted in full ditches and flooded roads outside the home. (See photo.)
The situation is so frustrating and seemingly hopeless that a respected town councilman in Vidor resigned his position and is in the process of moving out of town because his home was flooded by Harvey and again by Imelda –and there's no assurance it won't happen again.
But it's not hopeless.
Fear and mistrust and hopelessness can seep in through and work their way into what seems solid and impermeable. All of those things are a disease that will indeed kill us –and it will be a slow, gasping, painful death. 
The cure is the truth. 
The cure is Jesus Christ. 
The enemy of our souls would like us to give up. He'd like nothing better than to see us bite and devour each other.
But the truth is, the darkness can never extinguish the light.
The people I met are not giving up. Even though many of their possessions were destroyed and their homes severely damaged, there were those who were drawn closer to Jesus by it. 
I saw God moving to grow His kingdom not despite adversity, but because of it.
I am still kin with these folk, just as a wrote last year. Just as Scripture says, when one part of the body hurts, the whole body hurts.
And, as I have written before, all who believe in Jesus Christ, all who have the Holy Spirit, have been adopted into that same kinship family.
So, will you please join me as my Kinship Christian Radio family in praying for our kin in Vidor?
Mighty and everlasting LORD, God of mercy and truth and grace, we lift up to you our brothers and sisters in the Vidor area, asking that you would encourage them, provide for them, give them hope, and let the truth, the whole truth and nothing but your truth soak into every aspect of the situation in the areas affected by the flooding. Lord, please grant that all would be to the praise of your glory and in the mighty name of Jesus Christ! AMEN!
Today's Praise
Your kingdom is an everlasting kingdom, and your dominion endures through all generations. The LORD is trustworthy in all he promises and faithful in all he does. Psalm 145:13 (NIV)
Photo by Brett Miller, used by permission.
https://kinshipradio.org/home/wp-content/uploads/2019/10/Copy-of-vidorstreet.jpg
2268
4032
Dan Jones
https://kinshipradio.org/home/wp-content/uploads/2016/09/kinship-long-logo-blue.png
Dan Jones
2019-10-31 00:59:35
2019-11-01 02:56:16
Even When the Rains Come