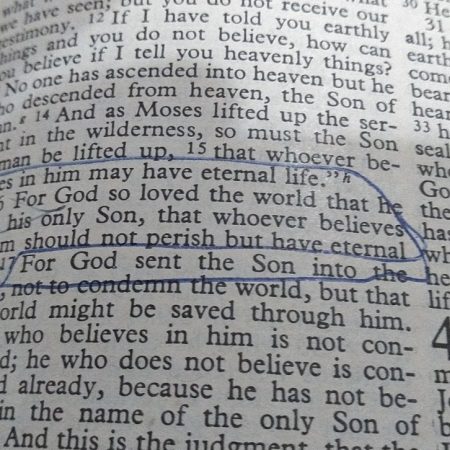 We've all heard the news: Dallas police officer Amber Guyger was convicted of murder in the death of Botham Jean.
The trial lasted a week.
The jury deliberated less than a day.
And in that time, the media coverage was relentless.
There was outrage and their were protests.
And then Botham's brother, Brandt Jean, took the stand to give a victim impact statement and said:
"If you truly are sorry, I know I can speak for myself, I forgive you. And I know if you go to God and ask him, he will forgive you.
And I don't think anyone can say it — again I'm speaking for myself and not on behalf of my family — but I love you just like anyone else.
And I'm not going to say I hope you rot and die, just like my brother did, but I personally want the best for you. And I wasn't going to ever say this in front of my family or anyone, but I don't even want you to go to jail. I want the best for you, because I know that's exactly what Botham would want you to do.
And the best would be: give your life to Christ.
I'm not going to say anything else. I think giving your life to Christ would be the best thing that Botham would want you to do.
Again, I love you as a person. And I don't wish anything bad on you.
I don't know if this is possible, but can I give her a hug, please? Please?"
And then the judge allowed Brandt Jean to give Amber Guyger a hug.
And in that moment, Jesus changed everything.
In that moment, grace won.
All the hate and division and wedges the enemy of our souls had been driving between us forever were carried away in a tsunami of grace.
You could almost hear Jesus saying, "It is finished."
And there was reconciliation.
There was forgiveness and grace where it was not earned, where it was not deserved, where no one expected it.
And in that moment, what had been a senseless death was suddenly used by God to teach us all what Jesus really looks like.
Brandt Jean is only 18 years old. When you watch the tape of him speaking those words of grace, you can tell he's not saying those words for his own glory. If anything, it seemed to me he couldn't quite believe that he was there in that time, in that place, saying what he was saying.  He seemed uncomfortable at best.
But there he was.
And after he gave that convicted murderer, the murderer of his own brother, a hug.
And Amber Guyger sobbed uncontrollably.
After that, Judge Tammy Kemp consoled the Jean family, and then she left the courtroom and came back with her own Bible and gave it to Guyger, pointing out John 3:16 and assuring her that she could be forgiven, that she could change her life.
And the onlookers and the lawyers in the courtroom were in tears.
Because that's what grace, –the real, true grace of Jesus Christ– does to your soul.
Since then, pundits and lawyers and people who were not there have raised a number of "concerns." There were complaints and protests from The Freedom From Religion Foundation. And the media tried to make this too, a circus.
But what cannot be changed is that Jesus was right there in that courtroom and He changed lives, just like He has been doing for 2,000 years. Jesus stepped in where the best we have to offer is rumors and lies and innuendo and hate and He poured out eternal mercy and grace and truth and love.
And the darkness did not understand it, nor could it stop it.
Today's Praise
For God so loved the world, that he gave his only begotten Son, that whosoever believeth in him should not perish, but have everlasting life. (KJV)
https://kinshipradio.org/home/wp-content/uploads/2019/10/john316.jpg
726
1291
Dan Jones
https://kinshipradio.org/home/wp-content/uploads/2016/09/kinship-long-logo-blue.png
Dan Jones
2019-10-10 00:32:04
2019-10-10 00:33:09
Grace Wins