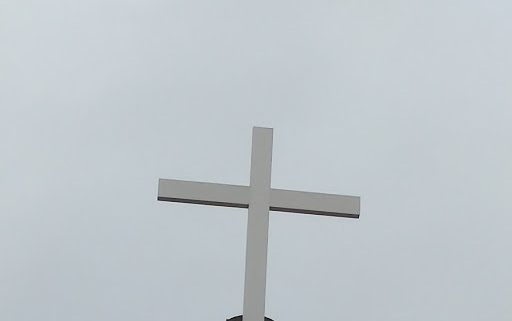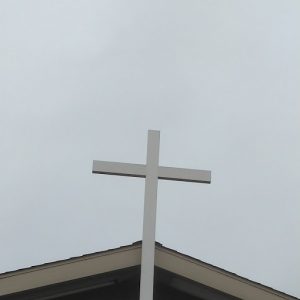 A dear pastor friend of mine recently posted that question on his blog.
The moment I saw it, I knew I needed to write about it, not because I have somehow been called by God to defend His Church, but that I could have the answer to that question in my own heart. 
Volumes could be written on the subject and probably have. A case could be made that there probably is no greater question in our world today.
And it's no mistake that this question came from a pastor who is like a pit-bull with a bone when it come to the truth. Pastor Tim will gnaw on that bone of truth and grind his teeth right down to nubbins to get to the truth –the real truth, the whole truth, the nothing-but-the-truth. God's own truth. He's a lot like some of the pastors you hear preaching on Kinship Christian Radio.
So, as we start gnawing on this bone, the first and real meat of the issue is that He is worthy.
The Church exists to praise and honor the Lord Jesus Christ because He is worthy of ALL praise, glory, and honor:
Through him all things were made; without him nothing was made that has been made. John 1:3 (NIV)
Everything in all the entire universe was made in and through and for Jesus Christ. He is the only begotten Son of God who died on a cross to take away all our sins that we would have eternal life and be reconciled to God the Father. This is only possible through our Lord and Savior who rose from the grave ALIVE, having defeated sin, death, and the devil. All of this is not of our own doing in any way, shape, or form and absolutely, precisely, totally  NONE of that glory goes to anyone other than the LORD Jesus Christ. 
Period.
He is worthy of a Church that worships Him and glorifies Him and that is the primary good that any group of believers can bring to this world because it is what we were created for. We were meant to love God, to worship Him, to have fellowship with Him. He was meant to be our God and we are meant to be His people. This is the primary good of the Church.
Secondly, we are family. 
We are adopted into the family of God when we believe. We are no longer children of the darkness. We have been adopted into the family of God, sealed with His own Holy Spirit as a guarantee of the inheritance to come in the next life (Ephesians 1:13) and, as such, we are all brothers and sisters in Christ.
So, why would a family not meet together on a regular basis? Why would a family, which is knit together in love by the same power that raised Jesus from the dead, not sit down and share a meal together? I'm not talking about potlucks, here folks. I'm talking about Holy Communion. This is where we are truly family. This is coming together and doing this seemingly simple but oh-so-powerful act of familial love in remembrance of the One who made us a family with His broken body and shed blood. 
And in that family celebration, we worship Him as a family, singing songs of joy and glory and praise to Him! We sit and we listen and absorb and put into our hearts, into our souls, the deep and glorious and wondrous, awesome meaning found in His Word. 
The good of the Church is to come together as a family to strengthen, to build up, to encourage and grow ourselves and others into deeper and yet deeper familial relationships. 
Thirdly, and I know that I may take some flak on this, the good of the church is to do good works.
Now, let me be absolutely clear that we are NOT saved by good works. (See paragraph above with capital letters in it.) But, we clearly saw Jesus doing good works during His ministry here on earth and He (and his apostles) clearly tell us that doing good works are important:
In the same way, let your light shine before others, that they may see your good deeds and glorify your Father in heaven. Matthew 5:16 (NIV)
As the body without the spirit is dead, so faith without deeds is dead. James 2:26 (NIV)
For we are God's handiwork, created in Christ Jesus to do good works, which God prepared in advance for us to do. Ephesians 2:10 (NIV)
We are designed and built to love God and to love others. We are predestined for good works! Love does not sit on its hands while others are in need of help. We go out beyond the walls of our comfortable building and we help them, even if it means we are uncomfortable in the process. And this is where the fellowship of believers is vital, for we can do so much more as a team, a family of believers rushing to the aid of people in need, rather than a little ole me sitting behind a TV muttering "that's too bad" while I munch another fistful of Ultra-Crispy Carb-O-Puffs.
This is what disciples do. They follow the Lord Jesus Christ listening to all He says and doings all He tells them to do. The Church exists to create disciples of and in all nations. There are no examples of disciples doing nothing. Even when they were locked in prison, boiled in oil, flogged, whipped, beaten, even when they were exiled to far away islands, they were still doing good works.
Kinship Christian Radio is an example of the Church doing good works. The ministry is not the church, nor is it to take the place of the church. It is the Church doing what the Church should do and can do through the fellowship of believers. 
Fourthly, the Church exists for the purpose of unity among the brethren. I know it may seem an odd thing to say given all the division among the various denominations, but we are given an example of how disagreements in the weighty matters of the Church are to be dealt with in Acts 15.
As the early Church began to grow, some were teaching that new believers had to be circumcised according to the law of Moses to be saved.  Paul and Barnabas disagreed with this vehemently, and so a meeting of all the church leaders was called in Jerusalem where the issue was thoroughly discussed. Yes, it's clear that the discussion was certainly emotional and probably quite loud at times, but they eventually came to an agreement and it has been so ever since. 
So, the good of the church is also that we can come together and resolve our differences. Whether we are practicing that as we should is something for reflection.
In the end, the good of the Church is that Jesus is LORD. It is His Church, because if He is Lord, then He is LORD of all. Since all things were created in Him and through Him and for Him, then anything and everything is under His Lordship. There is nothing that has been left undone. There is nothing in heaven or in earth that is not His. When He said, from that cross hanging between heaven and earth, "IT IS FINISHED!" it was truly finished. The veil was torn and the enmity between God and man was resolved.
Finished. 
And with that finished work, He left here His Church, that her people would speak the Good News, that all would know that there was nothing they need to do but believe to be saved. And out of that joy, out of the great Gospel news, the Church is left here to share that joy in all we do and say until that day when He returns and every knee will bow and every tongue confess that
JESUS IS LORD!
Today's Praise
The Son is the image of the invisible God, the firstborn over all creation. For in him all things were created: things in heaven and on earth, visible and invisible, whether thrones or powers or rulers or authorities; all things have been created through him and for him. He is before all things, and in him all things hold together. And he is the head of the body, the church; he is the beginning and the firstborn from among the dead, so that in everything he might have the supremacy. For God was pleased to have all his fullness dwell in him, and through him to reconcile to himself all things, whether things on earth or things in heaven, by making peace through his blood, shed on the cross. Colossians 1:15-20 (NIV)
Photo by author
https://kinshipradio.org/home/wp-content/uploads/2019/10/cross.jpg
512
512
Dan Jones
https://kinshipradio.org/home/wp-content/uploads/2016/09/kinship-long-logo-blue.png
Dan Jones
2019-10-03 01:35:45
2019-10-03 02:17:39
What Good is the Church?