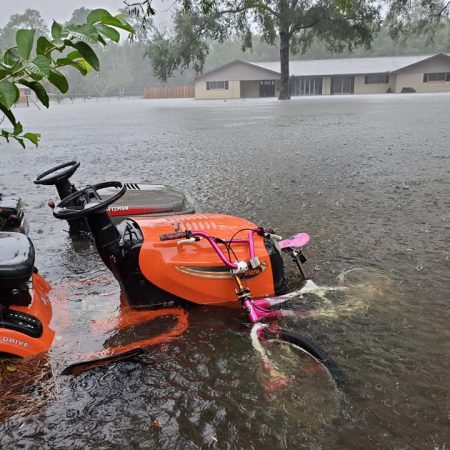 God does not believe in coincidence.
I have written that before –more than once.
Last Friday night, I sat in a nice, warm dry movie theater and watched yet another excellent Christian film by the Kendrick brothers. It's well-written, well-produced, well-acted, and just over all very well done. 
You and your family should go see it as soon as you are able.
At the very same time I was watching this movie, sitting there next to my wonderful wife and munching on popcorn while sipping a root beer, I had brothers and sisters in Christ in southeast Texas being overcome with flood waters destroying their homes –again.
You may remember that about 11 months ago, I went on a mission trip to Vidor, Texas where I helped rebuild a home devastated by the effects of Hurricane Harvey in 2017. I spent the week cutting floor tile, mixing thinset mortar to hold the tile to the floor, and just generally doing what I could to help this family that had been living in an RV trailer in their backyard for over a year to get back into their home. At the end of my week there, the work that I and numerous others had done did indeed result in that family being able to move back into their home.
I remember them posting a video on Facebook of all the wonderful food they were finally able to cook in their new kitchen for Thanksgiving.
Last Thursday, that same family posted a video of them wading in rubber boots through eight inches of flood water, walking atop the very tile I had helped install. 
By the time Tropical Depression Imelda moved out of the Vidor area a couple of days ago, she had dumped a total of 40 inches of rain on homes and families that had not fully recovered from the effects of Harvey. Most homes had water three feet deep in them this past weekend.
Pastor Skipper Sauls of Shiloh Missionary Baptist Church, his family, his church, and volunteers from all over the country had been involved in repairing over 250 homes damaged by Harvey.
He currently estimates that maybe seven of those homes escaped damage from Imelda.
Sauls and his church and his family had gotten very, very good at repairing what Harvey had done, but in a sense, what Imelda did was even more cruel because it means just when the end seemed to be in sight, just when most people were getting back to "normal" life, now it starts all over. 
And my brothers and sisters in Christ whom I came to know and love and pray for every day are in danger of being overcome, not by the flood waters, but by just being worn down. 
In the movie, "Overcomer" there is a young lady who comes to faith in Jesus and she is told to go to the book of Ephesians and write down every thing Paul says a believer in Christ is, and when that scene took place in that movie it took my breath away and I started once again to cry those Holy Spirit tears. 
Because, you see, for over a year the Holy Spirit has been absolutely haunting me with the first part of the book of Ephesians. In the past year, I have preached the same message from it in my home church, in the Dominican Republic, in Guatemala, and in Israel.
God has been sending me all over this world with the message that He has adopted his people into His very own family as His very own children sealed with the promise of the Holy Spirit as a guarantee of their inheritance of eternal life and that when that happens, when the presence of Jesus comes into your life making you a child of God, it changes the world.
When Jesus came into the lives of the people of Ephesus, they started picking up abandoned babies off the trash heaps and the dung piles and adopting them as their own children, just as God had done for them when they accepted Jesus as the LORD and Savior. 
Jesus changed the world for the people of Ephesus two thousand years ago and He is still doing it today.
Jesus is still changing the world.
The title of the blog post I wrote about Vidor was, "Kin" and it was about being adopted into the family of God. The connection with Kinship Christian Radio is both obvious and glorious. 
So, even though my family in Vidor, Texas is still chosen, adopted, freed, united with Christ, recipients of an inheritance from God, His holy people, made full and complete by Christ, been made alive when they were dead,  are examples of the incredible wealth of His grace and kindness toward them, God's masterpiece, been created anew, been brought near to God when they were far away, united into one people, no longer strangers and foreigners, made citizens along with all God's holy people, adopted into His own family, joined together in Him, and being made part of this dwelling where God lives by his Spirit, they still hurt.
Even though none of those glorious, wonderful things God has given them can ever be taken away, even though the gifts they received from God through the power of the blood of His only begotten Son cannot be washed away by any flood no matter how high or how deep, they still hurt.
Pastor Sauls says there is a smell that comes with a flood like this. It's the smell of mold growing behind soaking wet drywall, of wet couch cushions and sopping wet mattresses. 
He says the smell was gone, but now it's back. 
It's that lingering smell, that hurt that was gone –that they thought was gone forever –that's back.
Yes, they hurt and they are in danger of losing heart –as any one of us would be in that situation.
So, brothers and sisters of the largest family in the world, the kinship of Christians, I beseech you to pray for them. I beseech you to pray, as Pastor Sauls asked them in a video, to not grow weary in doing good. Call on the Holy Spirit, brothers and sisters to bless and encourage and help siblings in the faith you have never met. 
Pray so that your prayers are an aroma rising before the throne of God. Pray that the lingering smell of despair and hopelessness would be overcome by the fragrance of Christ. 
And, if you are so inclined, contact me as there are about two dozen of us going there to help them October 18-26. We had been planning this trip long before Imelda even had a name, and we have room or can make room for more. 
Today's Praise
Now all glory to God, who is able, through his mighty power at work within us, to accomplish infinitely more than we might ask or think. Glory to him in the church and in Christ Jesus through all generations forever and ever! Amen. Ephesians 3:20&21 (NLT)
Last year's blog on the Vidor Trip:  https://kinshipradio.org/home/2018/10/25/kin/
(Photo used by permission from anonymous source.)
https://kinshipradio.org/home/wp-content/uploads/2019/09/vidor-flood.jpg
720
960
Dan Jones
https://kinshipradio.org/home/wp-content/uploads/2016/09/kinship-long-logo-blue.png
Dan Jones
2019-09-26 01:31:20
2019-09-26 01:31:20
Overcomer