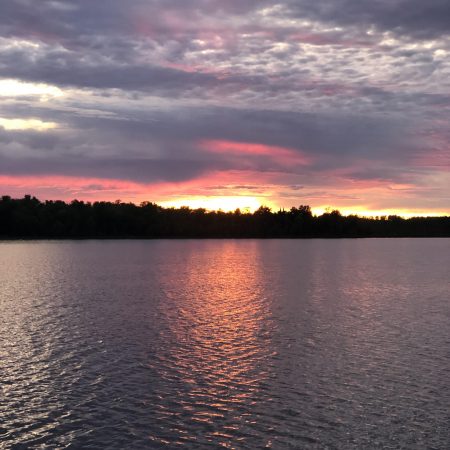 You may have noticed that you did not have a brand-new, glorious, thought-provoking, and/or spiritually encouraging blog post from yours truly last week. 
That's because I was in Itasca County for my annual fishing vacation. 
For me, the lakes and big piney woods of northern Minnesota work to recharge, refresh, and bring peace to my soul. There's just something about that particular place on this earth that connects with my inner being and brings me closer to God.
And who among us is not moved by a glorious red and orange and pink sunset over a glass-flat lake mirroring and doubling the colors while a loon makes its echoing call? What soul is not awed by white pines towering like the columns of God's own cathedral over a rocky shore with ancient boulders hunching their backs in the clean, clear water of a pristine lake?
Yes, there is a peace and a refreshment that comes from this place.
The part that amazes, confounds, and flummoxes me is that a week's worth of this glorious, wonderful peace can evaporate in less than an hour of driving on I-494 on the way home.
Here I am, driving along listening to some glorious God-honoring song on Kinship Christian Radio when suddenly, there's a lady in a Ford Escape attempting to merge at 45 mph while eating something with a spoon while she is driving and just like that, I'm leaning on my horn and the brakes and the left turn signal all at the same time.  
Less than five miles later, I've got a guy in a Toyota Tundra in front of me alternating between the brakes and the accelerator every seven seconds because he's got his phone pressed up against his ear arguing with someone who probably also didn't get the memo that hands-free is now mandatory while driving.
And suddenly, I have completely forgotten that I just spent an entire week in a place where it seemed God went out of His way to smile upon me.
Now, it didn't take long (somewhere around Jordan, I think) for me to realize that I am no better than the lady with the spoon or the guy with the cell phone. We have all sinned and fall short of the glory of God and (as I have written before) it is one of the great mysteries of the human soul that the most difficult place in the world for a self-identifying Christian to actually act like a real Christian is behind the wheel of their own motor vehicle. 
It's why I do not have a Jesus fish on the back of my Highlander.
If the Apostle Paul were alive today, it would not surprise me one iota if he were to write these words:
"So I find this principle at work: Although I want to do good as I drive, evil sits in the passenger's seat. For in my inner being I delight in God's law; but I see another law at work in me, waging war against the law of my mind and my right foot and my hand that slams the horn button and making me a prisoner of the law of sin at work within me. What a wretched motorist I am! Who will rescue me from this body that burns with seething anger against my fellow motorists?" 
It was not until the next day, as I was driving to church while listening to Matt Dorfner's program, "Word Wise" (10:00 a.m. every Sunday) that I realized the real gravity of my anger. Pastor Jack Hayford was preaching on the familiar parable Jesus told about the unmerciful servant in Matthew 18:21-35 where a king forgives a servant of an enormous debt (probably about six million dollars by today's values) and that same servant goes out and begins choking a fellow servant who owes him a mere fraction of that.
And it occurred to me that, even though my fellow motorists didn't know it, my anger at them is really no different than grabbing them by the throat and trying to squeeze the very life out of them because of what was in my heart at the time.
Here I am, forgiven and freed by the blood of Christ and blessed beyond all measure of what I truly deserve, and I'm enraged with people who very well could be brothers and sisters in Christ for infractions so minor in comparison to my own sins it would be impossible to stand before my God and my Savior and justify my actions to any degree whatsoever.
And all because I had to disengage my cruise control or use my brakes? 
Really?
Sometimes, all you can do is look down at your shoes and admit you are wrong and that the Holy Spirit, writing through Paul, was right. (And this time, I will not change the words.)
So to keep me from becoming conceited because of the surpassing greatness of the revelations, a thorn was given me in the flesh, a messenger of Satan to harass me, to keep me from becoming conceited. 2 Corinthians 12:7 (ESV)
Note that this single sentence begins and ends with the same phrase.
And in the gift of that humility, a song about grace came on the radio that I had heard before.
But the words stuck a little deeper than they ever had.
Today's Praise
If grace was a kingdom
I stopped at the gate
Thinking I don't deserve to pass through after all the mistakes that I've made
Oh but I heard a whisper
As Heaven bent down
Said, "Child, don't you know that the first will be last and the last get a crown"
Now I'm just a beggar in the presence of a King
I wish I could bring so much more
But if it's true You use broken things
Then here I am Lord, I'm all Yours
The pages of history they tell me it's true
That it's never the perfect; it's always the ones with the scars that You use
It's the rebels and the prodigals; it's the humble and the weak
All the misfit heroes You chose
Tell me there's hope for sinners like me
Now I'm just a beggar in the presence of a King
I wish I could bring so much more
But if it's true You use broken things
Then here I am Lord, I'm all Yours
Grace is a kingdom
With gates open wide
There's a seat at the table just waiting for you
So, come on inside.
(Lyrics to "Broken Things" by Matthew West)
(Photo by Jessica Jones, used by permission.)
–>>>Oh, also, just a reminder that it's September Survey time! Your input on the ministry of Kinship Christian Radio is valuable, important, and wanted. AND, for the first time ever, you can fill out the survey online! Here's a link:  https://kinshipradio.org/home/september-survey-2019/
https://kinshipradio.org/home/wp-content/uploads/2019/09/bigger-northstar-sunset.jpg
4032
3024
Dan Jones
https://kinshipradio.org/home/wp-content/uploads/2016/09/kinship-long-logo-blue.png
Dan Jones
2019-09-12 00:38:13
2019-09-12 00:38:13
A Beggar in the Presence of a King