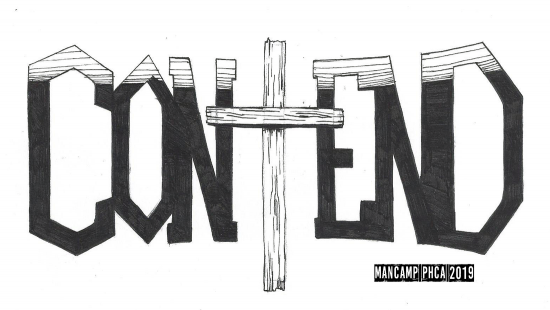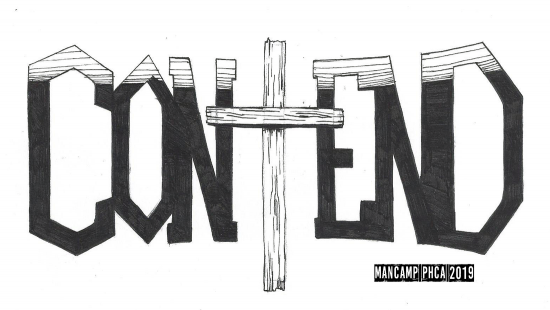 I have just returned from my second MANCAMP.
Yes, it is properly spelled in all caps.
MANCAMP involves men doing manly things at Pinehaven Christian Assembly near Park Rapids, MN. This includes shooting, hiking, biking, motorcycling, golfing, fishing, eating prime rib, enjoying manly fellowship, praying,  praising the LORD, and growing in wisdom and knowledge. 
The theme this year was "Contend," and was based on Jude 1:3:
"Dear friends, although I was very eager to write to you about the salvation we share, I felt compelled to write and urge you to contend for the faith that was once for all entrusted to God's holy people." (NIV) 
Now, the word "contend" is defined in this passage as "to struggle for." Ellicott's Commentary for English Readers says, "The word is a graphic one, implying standing over a thing to fight in its defense." 
So, how do we contend for the faith? 
I think the word carries the implication of not only courage, but also a dogged persistence.
It would also seem, given the reference to fighting, that it would imply that we should perhaps even be somewhat contentious.
Indeed, taken in context, the tiny book of Jude is a short letter exhorting an unknown church to mend it's ways. Jude, the half-brother of Jesus, says he is writing because some ungodly people have slipped in among the congregation and convinced some that God's marvelous grace allows people to live ungodly lives. They claim authority from their own dreams, engage in immorality, defy authority, scoff at heavenly things, and indulge their animal-like natures. (Sound familiar?)
Their blatant immorality makes a mockery of the Lord's Supper. Any witness or example they might have had as Christians set apart for  good works, grace, mercy, and truth is negated by their immorality. They are also braggarts who grumble and complain incessantly.
Jude writes, 
"When these people eat with you in your fellowship meals commemorating the Lord's love, they are like dangerous reefs that can shipwreck you. They are like shameless shepherds who care only for themselves. They are like clouds blowing over the land without giving any rain. They are like trees in autumn that are doubly dead, for they bear no fruit and have been pulled up by the roots.  They are like wild waves of the sea, churning up the foam of their shameful deeds. They are like wandering stars, doomed forever to blackest darkness." (Verses 12&13, NLT.)
It would certainly seem that any good Christian would want people like this kicked out of "their" church. A certain amount of contentiousness would not only be understandable, but seem fully and totally justified. I could easily see a meeting of the elders of the church escalating past contentiousness right into shouting, foot-stomping, and outright vitriol with shouts of "We've got to do something about this!"
But the thing is, the church Jude was writing to didn't get where it was overnight. Jude says immoral people had slipped in unseen, indicating that the disease afflicting it was that most dangerous and perilous of all threats to Christianity: Apathy.
The LORD makes it quite clear how He feels about the lukewarm, complacent church in Revelation 3 when he addresses the Church at Laodicea: "So, because you are lukewarm—neither hot nor cold—I am about to spit you out of my mouth." (V. 16, NLT)
So, how are we to purge our churches, yes even our society, of ungodly and immoral behavior while still being the salt and the light we are called to be? How can we be strict and contend righteously for the faith while still being known by all the world for our great love for God and for all people?
Jude answers that in two parts. Verses 20 and 21 address the relationships among the faithful. Verses 22 and 23 addresses the relationship with the immoral. We do not just kick them out, we attempt to rescue them: 
But you, dear friends, must build each other up in your most holy faith, pray in the power of the Holy Spirit, and await the mercy of our Lord Jesus Christ, who will bring you eternal life. In this way, you will keep yourselves safe in God's love.
And you must show mercy to those whose faith is wavering. Rescue others by snatching them from the flames of judgment. Show mercy to still others, but do so with great caution, hating the sins that contaminate their lives. (NLT)
So, we are called to love and support and to help each other, being careful not to be dragged into sin ourselves.
We are called to contend, but not against each other. We are called to contend, to fight, to battle for each other. 
For our struggle is not against flesh and blood, but against the rulers, against the authorities, against the powers of this dark world and against the spiritual forces of evil in the heavenly realms. Ephesians 6:12 (NIV)
Today's Praise
But thank God! He gives us victory over sin and death through our Lord Jesus Christ. So, my dear brothers and sisters, be strong and immovable. Always work enthusiastically for the Lord, for you know that nothing you do for the Lord is ever useless. 1 Corinthians 15:57&58 (NLT)
https://kinshipradio.org/home/wp-content/uploads/2019/08/mancamp-2019-location-data_orig-e1566613325544.png
310
550
Dan Jones
https://kinshipradio.org/home/wp-content/uploads/2016/09/kinship-long-logo-blue.png
Dan Jones
2019-08-24 01:56:15
2019-08-24 02:24:18
Contend