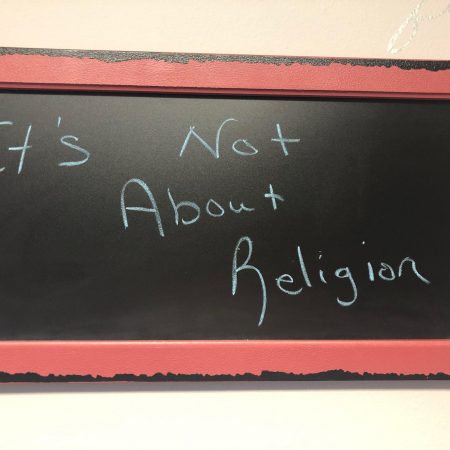 ..it's about relationship.
We've all seem this meme many times and I certainly do not disagree with it, but lately I have come to believe it is far, far deeper than that.
The book of Ephesians has been on my heart for a long time now.
I wrote about it way back in February and it continues to just haunt me.
Like a Holy Ghost, it haunts me. 
To recap: Back In February, I wrote about Paul's continued and repeated reference to adoption throughout the book of Ephesians. I explained that, at the time Paul founded the church in Ephesus, Roman law allowed excess and unwanted babies to be left outside to die –and people did just that. 
Babies who were the product of incest or rape or were deformed or illegitimate or children of infidelity or poverty or just inconvenient were left on the trash heaps and dung heaps to die. Sometimes, they were eaten by feral dogs.
But when Paul introduced the people of Ephesus to Jesus and they accepted Him as their Lord and Savior, Jesus changed everything. Those new believers, those born-again new creations in Christ started picking those babies up, saving their lives, and legally adopting them as their own dearly-loved children. 
And, under Roman law, an adopted child could not be disinherited like a naturally-born child. Their inheritance was guaranteed the moment the adoption papers were stamped with the Roman government's official seal.
That's why Paul wrote things like this:
And you also were included in Christ when you heard the message of truth, the gospel of your salvation. When you believed, you were marked in him with a seal, the promised Holy Spirit, who is a deposit guaranteeing our inheritance until the redemption of those who are God's possession—to the praise of his glory. Ephesians 1:13&14 (NIV) 
What the believers in Ephesus were doing was exactly what God does for each of us. It's an amazingly beautiful and full and complete picture of how Jesus changes everything.
And, 2000 years later, Jesus is still changing the world. I cannot and will not apologize for being haunted by the picture and the thought of what happened in Ephesus, but something hit me right between the eyes recently when a friend who was preaching mentioned Luke 18: 16 & 17:
"But Jesus called the children to him and said, "Let the little children come to me, and do not hinder them, for the kingdom of God belongs to such as these. " Truly I tell you, anyone who will not receive the kingdom of God like a little child will never enter it." (NIV)
Now, when most people think about this verse, they say Jesus meant we need to come to him like innocent children, with trust and even the joy a child has in experiencing something wonderful. 
Those are certainly valid ways of looking at that verse, but I had a strong impression of a little child running into his or her father's arms. Even though I have heard that verse, many, many times in my life, this time it felt like Jesus was calling us to come as family.
Real family.
And as I think about that concept of "family" all of Scripture resounds with that word.
It's why we call Him "Father."
It's why we call each other "brother" and "sister."
Even the Lord's Supper now makes me think of a family sitting down to a meal.
It's how God designed us to live: Father, mother, children. Family.
Worship now takes on the light of a family coming together in reunion and celebration. 
It resounds throughout the Bible. It makes me and every one of us members of the same family starting with Adam and Eve, through Noah and his family, through David, and Solomon, and Joseph and Mary….and Jesus. 
And suddenly, all those long lists of "begats" and long lists of lineage make a little more sense. 
And, even though I've known and loved the parable of the prodigal son for a long time, suddenly it has new depth and richness. The child who ran off and renounced his membership in the family, the child who was dead to the family is now ALIVE and restored as a full and complete member of the family! He's ALIVE! 
Even when Jesus talked about how He longed to gather the children of Jerusalem "as a hen gathers her chicks under her wings" that's an image of a family. 
Of course! It's about family!
It means we have a family that covers the entire world. It means we have brothers and sisters in Afghanistan, in Pakistan, in Belize and Rwanda, in China and Sweden, in the Philippines and Australia and Canada. The earth is covered with over two BILLION fellow brothers and sisters in Christ and there are new brothers and sisters being brought into the family every day, every hour, every moment of every day. 
It means there are potential brothers and sisters everywhere you look. Some may be family right now, and some may be waiting to come into the family as a result of God working through your witness. 
It means the depth of love we are to have for each other is the love of a functional, working, loving family where we support and encourage and fight for each other to the point where we are willing to pick babies up off the dung heaps, clean them up, and sign the legal papers to adopt them as our own rather than let them be eaten by dogs. 
It's the kind of love that changes the world. It's about Jesus changing the world.
So, yes, it's not about religion, it's about relationship — as a FAMILY!
And that, brothers and sisters in Christ, is why it's called Kinship Christian Radio. 
Today's Praise
And I will be your Father,
and you will be my sons and daughters,
says the LORD Almighty. 2 corinthians 6:18 (NLT)
Photo by Tracy Jones. Used with permission.
https://kinshipradio.org/home/wp-content/uploads/2019/08/its-not-about.jpg
3024
4032
Dan Jones
https://kinshipradio.org/home/wp-content/uploads/2016/09/kinship-long-logo-blue.png
Dan Jones
2019-08-15 00:10:33
2019-08-15 00:10:33
It's Not About Religion...