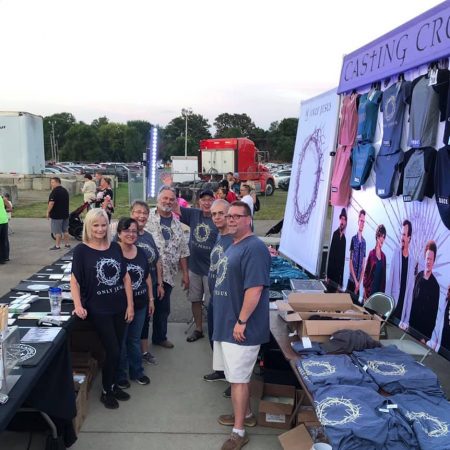 I distinctly remember the day I started listening to Kinship Christian Radio.
I don't remember the exact year or the day of the week, but I was driving my car, listening to the "Classic Rock" station and they were playing some song I'd heard countless times before by Bon Jovi or some similar hair band and, as I actually paid attention to the lyrics that glorified sin, I thought to myself, "Man, is that stupid." 
I started turning the dial, came across KJLY, and I think the first song that I really actually listened to was by Casting Crowns. 
And, just like that, I was done with secular rock-n-roll radio forever.
I had called myself a Christian for some years prior to that, but the rejection of the music that was the anthem of my former life of sin took an amazingly short time to leave a bad enough taste in my mouth to spit it out, literally, for good. 
I had another shocking epiphany when I realized how empty, vacant, and nonsensical the lyrics to "Stairway to Heaven" were:
"And if you listen very hard
The tune will come to you at last
When all are one and one is all
To be a rock and not to roll.
And she's buying the stairway to heaven."
What?
I'm pretty sure the deepest meaning we can garner from those lyrics is directly correlated to an estimate of the quantity of the substances being abused at the time they were written. 
It was good to be free of the rock-n-roll monkey on my back and, as I grew in my faith, Casting Crowns was right there with me.
Kinship Radio Announcer Beth Crosby gave me my first Casting Crowns CD and I discovered a richness and joy in music I had never known before.
Oddly, during all this time, I never got to see them in concert. Something always came up. So, when I learned last winter that they were going to be at the Freeborn County Fair on August 2 of this year, I was one of the first to go online and buy tickets –and I got seats in Row I, Seats 1&2 for me and my lovely wife. (That's Row I as in "I am cheap, " not Roman Numeral I as in "Incredible.")
Yes, I got the best seats in the cheap seats.
But then, shortly before the concert, I was asked to help at the merchandise table. (That's "merch table" to the hip, band type dudes who speak the lingo.) I gladly agreed to volunteer, which meant I got to give away the tickets I'd bought and bless someone else. It also means I will be able to put on my resume: "Merchandiser for Casting Crowns, Summer, 2019." And for about four hours of my life, I could have told people, "Yeah, I'm with the band."
I could have, but I didn't.
As I and other volunteers were being trained on how to sell T-shirts, hats, books, CDs, and other souvenirs from the concert, the young man in charge of all this, named John Michael, asked if anyone wanted to volunteer to be in charge of selling the T-shirts that were on clearance. Well, as we all know, I kind of have a minor reputation for "thriftiness" (See: "Incredibly Cheap.") so this seemed right in my wheelhouse and I volunteered. 
As John Michael was instructing me on the details of the clearance T-shirts, ("They are all $15. The smallest size is in that box and the biggest size is in that box.") I asked John Michael,
"So, how long have you been doing this?"
"About ten years," he said.
"And how on this earth did you ever come to have a job selling Casting Crowns merchandise?"
"My dad's in the band."
"Really, which one is he?"
"He's the lead singer."
"YOUR DAD is Mark Hall?" 
"Yes."
It also turned out that John Michael is a fine young man whose presence I greatly enjoyed. He has a gentleness with joy and confidence without arrogance about him that makes a person feel welcome in his presence.
All throughout the night, as I enjoyed worshiping with the crowd and my favorite band, I was thinking of things I could ask John Michael to tell his dad for me.
I thought of telling him that, over the twenty years I've been listening to every song they've ever recorded, the lyrics to their songs have stuck with me, ministered to my soul, and I've pointed others to the music of Casting Crowns to minister to their souls.
I thought about telling him that, in my opinion, no band today has the richness and depth of solid theology that we see in the lyrics of Casting Crowns songs from their very beginnings to the present day.
I thought about telling him how the message of "Who Am I?" that God doesn't need me, but gloriously, miraculously, He wants me has blessed me. I thought about how the message that every tear I've cried He holds in His hand from "Praise You in the Storm" has blessed so many people I've met who have suffered from anguish and depression.
I thought about telling John Michael how I had stood on the Mount of Ascension outside Jerusalem and as far as my eye could see in every direction, I had heard Jesus calling His people to come to Him as I cried tears of longing and of joy.
And, in the middle of the concert, when they were playing the only song they played that night that you won't hear on the radio but has somehow been just this one song stuck in my heart for six months, a song I listen to almost every day, this man came up to the merch table and wanted to know if I could recommend something to help him through what he was feeling since his son had committed suicide three months ago.
I prayed for that man and he told me that his son hadn't been himself for ten years. He said he knew his son was a believer and he knew his son was finally at peace. I told that man I had lost a son when he was only twelve days old, but I knew that my son wasn't gone — he was waiting for me in a place where we would both spend eternity praising Jesus. And we both agreed there was lasting joy in that.
Later, I told John Michael that I had been thinking of all kinds of things for him to tell his dad, but I wasn't going to do that to him there and now. I told him I would write it in this blog.
And so, John Michael and Mark Hall and all of Casting Crowns, thank you.
Thank you that you're all part of a ministry that started with a name about humility and praise of our Lord Jesus. Thank you that the very name of your band reminds us that one day kings and queens and royalty will stand before the Lord Jesus and they will all fall down before Him and the 24 elders praising Jesus forever will throw their crowns at His feet in worship and praise. Thank you that it's all about Jesus and Only Jesus. Thank you for reminding us that all an empty world can sell is empty dreams, but Jesus is the only name to remember. Thank you for this enormous circle of faith and trust in Jesus that, twenty years later, still says as clearly as it ever has, that we're all just nobodies trying to tell everybody about Somebody who saved our souls.
Thank you that a man who had just lost his son walked away with a CD with a song called "Only Jesus" that says:
All the kingdoms built, all the trophies won
Will crumble into dust when it's said and done
'Cause all that really mattered
Did I live the truth to the ones I love?
Was my life the proof that there is only One
Whose name will last forever?
Today's Praise
Lord, let Your fire make holy these lips unclean
Shine down in all Your glory, awaken me.
(From "Awaken Me" by Mark Hall and Seth Mosley — the song that followed me through the Dominican Republic, Guatemala, Israel, and home.)
Photo of the Kinship "Merch Crew" by Tracy Jones, used with permission. (Blogger is the homeless-looking guy in the Hawaiian shirt.)
https://kinshipradio.org/home/wp-content/uploads/2019/08/merch-crew.jpg
960
862
Dan Jones
https://kinshipradio.org/home/wp-content/uploads/2016/09/kinship-long-logo-blue.png
Dan Jones
2019-08-08 00:11:13
2019-08-08 00:11:13
"I'm With the Band."