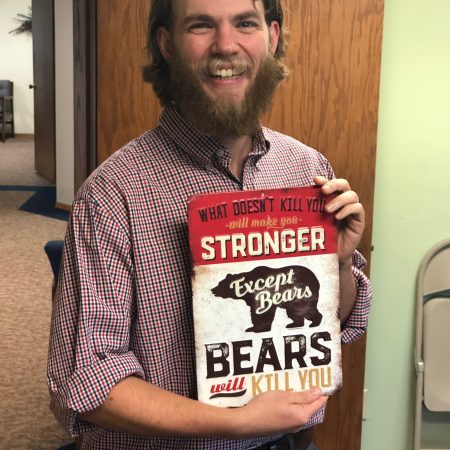 Pretty much anyone who listens to Kinship Christian Radio on a regular basis is aware that Announcer Allen Jones has an affinity for bears. 
Allen talks about bears, thinks about bears, sometimes allows himself to slightly resemble a bear (facial-hair wise), and even dreams about bears. 
Which is why, when I saw a metal sign for sale in a thrift store that said, "What doesn't kill you makes you stronger. Except for bears. Bears will kill you," I knew I had to buy it for Allen. 
The sign got me to thinking about all the things we say all the time that are just not true. The phrase, "What does not kill me makes me stronger" is actually an aphorism taken from Friedrich Nietzsche's Twilight of the Idols (1888) and, like much of what Nietzsche wrote, it's flat-out wrong. Lots of stuff that doesn't kill us makes us weaker and often does eventually kill us. 
The Bible doesn't say anything like the Nietzsche quote. In fact, the verses that immediately come to my mind on this subject are:
"They will put you out of the synagogue; in fact, the time is coming when anyone who kills you will think they are offering a service to God." John 16:2 (NIV)
and
"That is why, for Christ's sake, I delight in weaknesses, in insults, in hardships, in persecutions, in difficulties. For when I am weak, then I am strong." 2 Corinthians 12:10 (NIV)

Perhaps the most misquoted verse in the Bible is, "Money is the root of all evil."
No, boys and girls, no. Money is NOT the root of all evil. 1 Timothy 6:10 says,
"For the love of money is a root of all kinds of evil. Some people, eager for money, have wandered from the faith and pierced themselves with many griefs." (NIV)
The love of money is the root of all kinds of evil. The real root of all evil is the pride inherent in the original sin that makes us want to be our own gods and do things our way. Money itself is not evil, but the love of it easily ensnares us.
Another common Bible misquote is "Do unto others as they do unto you" which is exactly the opposite of what the Bible says in Matthew 7:12:
"So in everything, do to others what you would have them do to you, for this sums up the Law and the Prophets."
What about, "God helps them who help themselves?" 
Not in the Bible. Not even close. The quote is actually from an Aesop fable where Hercules says to a man whose wagon is stuck in the mud, "Get up and put your shoulder to the wheel. The gods help them that help themselves." So, the quote is actually from a pagan fable talking about small "g" gods, not the LORD. Once again, the Bible, teaches exactly the opposite: 
"This is what the LORD says: "Cursed is the one who trusts in man, who draws strength from mere flesh and whose heart turns away from the LORD." Jeremiah 17:5 (NIV)
Another one that was common some time ago was, "To thine own self be true" which is from Hamlet by Shakespeare and is not in the Bible at all. Lately, we have changed this to something along the lines of, "If you just believe in yourself, you can do anything." This is common in a lot of movies and entertainment from Hollywood, but it's an absolute lie. Again, the Bible teaches the opposite: 
Jesus looked at them and said, "With man this is impossible, but not with God; all things are possible with God." Mark 10:27 (NIV)
"I am the vine; you are the branches. If you remain in me and I in you, you will bear much fruit; apart from me you can do nothing." John 15:5 (NIV)
Another one that is extraordinarily common is, "God won't give you more than you can handle."
Actually, God will frequently give people more than they can handle by themselves so that they will come to him, as Paul writes in 2 Corinthians 1:8&9: 
We do not want you to be uninformed, brothers and sisters, about the troubles we experienced in the province of Asia. We were under great pressure, far beyond our ability to endure, so that we despaired of life itself. Indeed, we felt we had received the sentence of death. But this happened that we might not rely on ourselves but on God, who raises the dead. (NIV)
Now, when it come to temptation, the Bible does say a way out will always be provided, but it will come from him, not us. 
No temptation has overtaken you except what is common to mankind. And God is faithful; he will not let you be tempted beyond what you can bear. But when you are tempted, he will also provide a way out so that you can endure it. 1 Corinthians 10:13 (NIV)
Another one that's common but flat out wrong (Sorry, "It's a Wonderful Life") is that when people go to heaven, they become angels who earn their wings. Nope. Angels are angels and people are people. 
Are not all angels ministering spirits sent to serve those who will inherit salvation? Hebrews 1:14 (NIV)
But the one phrase that really makes me cringe the most is probably one we all know does not come from the Bible.
If you think you have to "keep up with the Joneses," I will gladly pull to the side and let you pass. I'm sure Allen would agree. 
Just be careful of the bears when you do.
Today's Praise
Seek the Kingdom of God above all else, and live righteously, and he will give you everything you need. Matthew 6:33 NLT
(Photo of Allen Jones by Tracy Jones, used with permission.)
https://kinshipradio.org/home/wp-content/uploads/2019/07/Allen.jpg
4032
3024
Dan Jones
https://kinshipradio.org/home/wp-content/uploads/2016/09/kinship-long-logo-blue.png
Dan Jones
2019-07-17 23:42:23
2019-07-17 23:42:23
Things We Say That Are Not Actually In The Bible