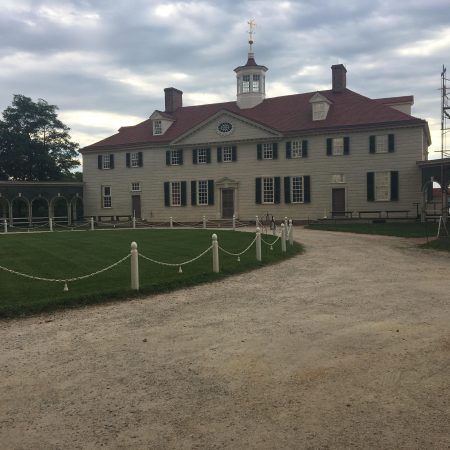 No doubt you will hear many references on Kinship Christian Radio on Independence Day in regard to God, our national freedom, and our freedom in Christ. 
It's common in the secular media of our day to hold the view that our founding fathers were Diests who believed in a Creator God, but not the God of the Bible, and certainly not Jesus Christ.
I began to wonder about that several years ago when my family and I visited Washington, D.C. and George Washington's home at Mount Vernon. As I read the inscriptions carved in stone on the buildings and monuments and saw the references to Jesus Christ in our founding documents, it became abundantly obvious that this claim of Deism as the dominant religion of our founding fathers was utter nonsense. 
I was particularly struck by the plaque on George Washington's tomb, located right there at Mount Vernon, which reads, "I am the resurrection and the life, saith the Lord, he that believeth in me, though he were dead, yet shall he live; and whoever liveth and believeth in me shall never die. St John x1:25.26″
Those are Jesus' own words –and they most certainly do not seem like the words one would find carved in stone on the tomb of a man who believed in a God but did not believe in Jesus Christ. 
So, I did a little more research and came across a book called, "George Washington: The Christian" by William J. Johnson. It is a compilation of some of Washington's favorite prayers taken from a manuscript written in his own hand that sold at auction in 1891. It is not known if young George (who was twenty years old at the time) authored these prayers or copied them from another source. You can actually find it online at no cost.
In honor of Independence Day, our first President, and the freedom won for us by our Lord and Savior Jesus Christ, here is George Washington's Monday Morning Prayer:
O eternal and everlasting God, I presume to present myself this morning before thy Divine majesty, beseeching thee to accept of my humble and hearty thanks, that it hath pleased thy great goodness to keep and preserve me the night past from all the dangers poor mortals are subject to, and has given me sweet and pleasant sleep, whereby I find my body refreshed and comforted for performing the duties of this day, in which I beseech thee to defend me from all perils of body and soul.
Direct my thoughts, words and work. Wash away my sins in the immaculate blood of the lamb, and purge my heart by thy Holy Spirit, from the dross of my natural corruption, that I may with more freedom of mind and liberty of will serve thee, the ever lasting God, in righteousness and holiness this day, and all the days of my life.
Increase my faith in the sweet promises of the Gospel. Give me repentance from dead works. Pardon my wanderings, & direct my thoughts unto thyself, the God of my salvation. Teach me how to live in thy fear, labor in thy service, and ever to run in the ways of thy commandments. Make me always watchful over my heart, that neither the terrors of conscience, the loathing of holy duties, the love of sin, nor an unwillingness to depart this life, may cast me into a spiritual slumber. But daily frame me more and more into the likeness of thy son Jesus Christ, that living in thy fear, and dying in thy favor, I may in thy appointed time attain the resurrection of the just unto eternal life. Bless my family, friends & kindred unite us all in praising & glorifying thee in all our works begun, continued, and ended, when we shall come to make our last account before thee blessed Saviour, who hath taught us thus to pray, our Father. "
AMEN
Today's Praise
PROCLAIM LIBERTY THROUGHOUT ALL THE LAND UNTO ALL THE INHABITANTS THEREOF. LEV. XXV X
(Inscription on the Liberty Bell.)
(Photo of Mount Vernon by Tracy Jones)
https://kinshipradio.org/home/wp-content/uploads/2019/07/mt-vernon.jpg
3024
4032
Dan Jones
https://kinshipradio.org/home/wp-content/uploads/2016/09/kinship-long-logo-blue.png
Dan Jones
2019-07-03 23:47:02
2019-07-03 23:47:02
George Washington and Jesus