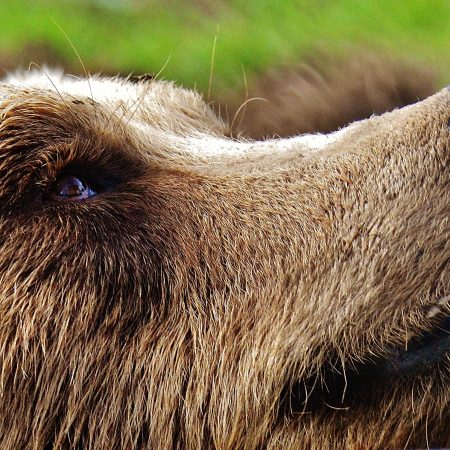 We all know that Kinship Christian Radio announcer Allen Jones is a big fan of bears.
No, not the Chicago Bears. Actual bears. Living in the woods bears. 
As a child, I also had a fascination with bears, but I suspect it is somewhat different than Allen's love of bears.
My grandmother always had the most recent issues of Sports Afield and Outdoor Life in the hall closet and encouraged me to read them. I do not think that this was so much because grandma sought to encourage me to become an outdoorsman and wear plaid flannel for the rest of my life as much as it had to do with her inability to say "No" to the neighbor girl when she came around selling magazines for her Brownie troop.
I did enjoy reading the articles, though, and that meant grandma could feel good that the magazines were not going to waste.
My favorite part of those magazines was a one-page feature inside each and every issue of Outdoor Life called, "This Happened to Me!" wherein some hapless outdoorsman was hideously mauled by a bear and narrowly escaped with his life only because he had the incredible courage and skill to remain absolutely motionless while the 700-lb bruin was chewing on his skull. Pictures of every aspect of the horrific incident were skillfully drawn by an actual Outdoor Life artist, further heightening the impact on my ten year-old imagination.
At about this same point in my young Beaver Cleaver life, my family started going "Up North" on fishing vacations.
These were grand and glorious adventures to a resort called "Rock Springs" located on Sucker Bay of Leech Lake. The journey took precisely 18,000 choruses of "Are we there yet?" from myself and my younger brother as we alternately bounced and pouted from the back seat of dad's 1958 Pontiac.
Once, we even stopped in Brainerd and got our picture taken with a giant statue of Paul Bunyan. Somewhere in the family archives, there is photographic proof of this momentous occasion. We also learned that there was no amount of whining that could convince dad that helicopter rides were really not all THAT expensive. 
Anyway, after weeks (hours) of driving, we eventually reached the gravel road that led from the highway to the resort. This was 18 miles of tortuously slow, bumpy, dusty magic between towering pine trees with a bear hiding behind each one. 
Now, we never saw any of these bears while driving a clattering 58 Pontiac with two kids screaming, "THERE'S ONE! THERE'S ONE!" in the back seat. But bears are stealthy. Ninja stealthy.
When we finally reached the resort, there was much unpacking and exploring.
The lake was huge and magically clear and green at the same time. We could see cabins on the far side of the lake and the dock stretched way out into the lake, with all kinds of boats tied to it. It came to a "T" and there was a bench out there on the end of the dock. Down by the shore, there was a little shack built into the side of the hill with a metal table top, running water, and fish scales everywhere. The shack smelled like fish guts. 
There were huge, huge pines everywhere and there was one lone especially tall and straight spruce on the hill above the dock and right behind that spruce was The Lodge.
As children, we were not allowed to go into The Lodge on the first day. 
Only after a couple of days, on one particularly warm afternoon, did dad say we could go with him and get some ice cream. 
The Lodge was magical. All the walls and ceiling were covered in knotty pine. There were pinball machines in there and some tables and, on the far wall, above the pool table, there was a stuffed muskie so big it looked like it could have eaten our pet dachshund, Tina. 
And there was a bar with a sign above it that said, "From the Land of Sky Blue Waters" and the blue water in that sign really did dance. 
Underneath the sign, behind the bar, there was a stout, tough-looking guy wearing a white t-shirt and blue jeans. His black hair was slicked back with more than a little dab of Brylcreem.
This was Bob, also known as "Bob the Bear." 
Bob was the owner of the resort. He was from "Up North" and, in all the years we would come to Rock Springs Resort, I never once saw Bob ever come out from behind that bar. 
Never. 
I was given an ice cream sandwich out of the refrigerated cooler in the entryway and allowed to sit at the bar. I sat there on my barstool, elbows on the bar, gnawing on that ice cream sandwich and just taking it all in. 
There were pictures behind the bar of guys with really big fish and big stringers of fish and packages of hooks and bobbers and Daredevels and mosquito repellant and toothpaste and foot powder and just about everything anyone could ever need for a wonderful Up North vacation.
And, then, suddenly, Bob was right in front of me.
"Hey kid," said Bob in a voice like gravel.
"H-hey," I said as a droplet of ice cream ran down my thumb.
Bob eyed the ice cream, bar rag poised to wipe it away should it fall to bar.
I quickly licked it off my thumb.
Bob grunted and turned slightly to walk away.
"Ummm, hey Bob," I said. "Are there like a lot of bearrrrss up here, huh Bob?"
Bob turned back to face me.
"Yeah, kid. We got some bears here."
My eyes grew wide.
"Um. Gee, Bob, and does anyone ever get, like, you know, hideously mauled by a bear up here? Huh, Bob?"
I stuffed the last of the ice cream sandwich in my mouth.
Bob eyed me for a moment, wiped his hands with the bar rag and said, "No kid. All we got here is little black bears. They all hang out down at the dump, eatin' garbage."
I swallowed the last of the ice cream sandwich in one gulp as Bob pointed a stubby sausage finger at me.
"Now, if you wanna be afraid of sumthin', kid, you be afraid of a moose, cuz a moose will KILL you!"
And Bob turned and walked away from me.
All these years later, I realize Bob was right. We choose what we will be afraid of. Our fears and our phobias and the things that eat us like an ice cream sandwich are things that we feed and grow within us.
Back then, it was kind of fun to be afraid of bears. It was even fun to scare other people by saying you had seen a bear hiding behind this tree or that tree and see them react in fear.
But the song by Zach Williams they play on Kinship Christian Radio is right:
Oh, fear he is a liar
He will take your breath
Stop you in your steps
Fear he is a liar
He will rob your rest
Steal your happiness
Fear may trample you like a moose, or paralyze you like a roaring lion.
But it will kill you spiritually because it kills your praise for the only one who is worthy of your praise. It eats up your confidence, your faith, in the one who said He will never leave you or forsake you, of the one who said no one could ever snatch you out of His hand, of the one who said, over and over again, "Do not be afraid."
Today's Praise
"Your servant has struck down both lions and bears, and this uncircumcised Philistine shall be like one of them, for he has defied the armies of the living God."1 Samuel 17:36 ESV (The words of David, right before he faced and killed the giant, Goliath.) 
Written by Dan Jones
https://kinshipradio.org/home/wp-content/uploads/2018/06/animal-animal-world-bear-158233.jpg
1504
2672
Dan Jones
https://kinshipradio.org/home/wp-content/uploads/2016/09/kinship-long-logo-blue.png
Dan Jones
2018-06-06 23:53:20
2018-06-06 23:53:20
Bears